GERMANY February 8 - March 3 2005
Attention all tourism folks, travel planners and hosts:

All Scheduling for John Reitmeier's Cool Site-Pick of the Day European Tour 2005 has moved to the Public page at: theminute.com/germany2005.htm
ATTENTION POTENTIAL CITY or BROADCAST EVENT HOSTS
Thanks so much for considering or arranging our visit and making the way for a broadcast from your location!

BIG THANK YOU!
We understand that the Tourism Organizations have a budget just like we do. If you are not able to provide all the lodging/food/event tickets/etc. that you would like, we understand! Thank you VERY MUCH for what you can provide us! If there is a situation where you are providing "discounted prices" or "partial" situations, please let us know in detail so that we don't have a miss-understanding. It's our goal to PROMOTE your City and it's Attractions as fun/must stop/must enjoy locations. The more information we have, the better we can make a "big splash!"

Our Personal Needs include:

Lodging: usually for 2 people, 1 room with 2 beds is sufficient (actually better cause we do planning etc.) If there is no "lift" we'd prefer a room with the least amount of steps. We would rather stay in properties that fit the "budget minded" traveler category as this is what we base our day to day programs on.

Food:
Breakfast either part of the lodging or on the run.
Lunch and/or dinner. Again we're looking for that "GREAT TASTE but on a budget" kind of place. If the places have a web page, we'd like that in advance to add to the COOL SITE-Pick of the Day information.

Events/Attractions/Fun/Shopping
The more we see and experience the more we can talk about! We tend to spend not only the time traveling to talk about our trips, but for the next weeks after we go back and review what we experienced at each location. Often we have guests/callers on the program who have also been at a location and we have a fun chat about the highlights of our visit!

Transportation
If there is a city-wide bus/subway pass, that's awesome.

Host/Tour Guide
Also an awesome benefit to us! But please don't feel obligated.

Interview Guests
We will be doing a "new" program for each of the radio stations back in the USA. A local guest always raises the interest level of our listeners. Although it's afternoon in Germany, it's MORNING DRIVE TIME back home. Things move VERY QUICKLY. A guest on the program who is quick on the response, very UPBEAT and HAPPY sounding is better than one who is full of facts but needs to talk in complete and drawn out thoughts! We are talking to the "morning man" back at each station that we do shows on. Often if things are "flowing" I'll just sit back and let the German guest and the morning man have their discussion and I'll be doing the "ending" bit and promoting the upcoming days! Best for us is if we have time before the ON AIR moment to do a little warm up with the guest, a minimum of 15 minutes seems to work great. We'll do some setup and feed that info back to the USA so that the folks on the USA side can ask the best questions.

IMPORTANT in this political climate: we have no "agenda" in doing these programs other than to create excitement and a desire to listen more to the station! (it's all about ratings ;-) There will be NO questions or comments in the political area. This is a difficult time for the USA and there is more than enough political news, much of it with a hidden agenda. Our Program is designed to bring our listeners an UP BEAT - Positive program.

Our Technical needs include:
Added Feb 2, 2005 We've just tested and decided to bring along a "VOIP" system. This would allow us to do Voice Over IP/the internet. If you have a connection with 256K of bandwidth, we can plug in a little box that we will be carrying, our equipment then plugs into this little VOIP box and gives us a local telephone number back here in Minnesota. Our engineers have been testing this and it seems to work fine. SO if you have a CAT 5 cable/jack that we can plug into and enough bandwidth that you can allow us during our show time, we'll have some NEW TECHNOLOGY fun and save some long distance fees.

Our Regular SETUP:


Best for us is a regular telephone that has a handset with a clip/click cable. That handset cable can plug right into our equipment. We carry with us a headset and microphone combination for 2 people. John & a Guest. If there will be 2 guests on a program, they will need to each do a segment as they cannot both be "on the air" at the same moment.


We can connect our equipment between the cord and the handset.

Also a regular, single line, telephone connection (plug) works great. We have equipment that can plug into that.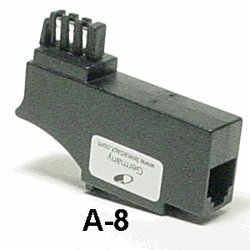 We carry this plug to connect to German phone jacks.

We can also do programs VIA a Cell Phone (HANDY) but the voice quality suffers (we carry a mixing board that can connect to a cell phone headphone jack)...If you feel that the benefits of being in a remote situation overshadow a lack of voice quality, WE'RE ALL FOR IT! Again, and I'm sorry for the repeat, but the excitement of live radio is that we never know just how things are going to turn out. We're used to doing programs in less than perfect "studio conditions" and our listeners love the possibility that things might get a little stressful or crazy!
CONFIRMED FLIGHTS!
Date: February 8
Flight: NW 1054
Departs: Grand Forks-Int'l, ND (GFK) at 1:27PM
Arrives: Minneapolis/St. Paul-Int'l, MN (MSP) at 2:30PM
Flight Duration: 1 hour 3 minutes
Miles: 281 Seat: 02-B
Meal Service: None
Aircraft: McDonnell Douglas DC9-40
Date: February 8
Flight: NW 42
Departs: Minneapolis/St. Paul-Int'l, MN (MSP) at 3:35PM
Arrives: Amsterdam-Schiphol, Netherlands (AMS) at 6:40AM on February 9
Flight Duration: 8 hours 5 minutes
Miles: 4155 Seat: 03-B
Meal Service: Dinner
Aircraft: McDonnell Douglas DC10-30
Date: February 9
Flight: NW 8771/*KL 1823
Departs: Amsterdam-Schiphol, Netherlands (AMS) at 9:35AM
Arrives: Berlin-Tegel, Germany (TXL) at 10:50AM
Flight Duration: 1 hour 15 minutes
Miles: 364
Meal Service: None
Aircraft: 100
Note: *Operated by KLM CITYHOPPER/KLM
Date: March 3
Flight: NW 8512/*KL 1824
Departs: Berlin-Tegel, Germany (TXL) at 11:40AM
Arrives: Amsterdam-Schiphol, Netherlands (AMS) at 1:10PM
Class of Service: Business Class (D)
Seat: 02-C
Flight Duration: 1 hour 30 minutes
Miles: 364
Meal Service: None
Aircraft: 737

Note: *Operated by KLM CITYHOPPER/KLM
Date: March 3
Flight: NW 45
Departs: Amsterdam-Schiphol, Netherlands (AMS) at 2:00PM
Arrives: Minneapolis/St. Paul-Int'l, MN (MSP) at 4:00PM
Class of Service: World Business Class (D)
Seat: 02-B
Flight Duration: 9 hours
Miles: 4155
Meal Service: Dinner
Aircraft: McDonnell Douglas DC10-30
Date: March 3
Flight: NW 1057
Departs: Minneapolis/St. Paul-Int'l, MN (MSP) at 10:11PM
Arrives: Grand Forks-Int'l, ND (GFK) at 11:15PM
Class of Service: First Class (A)
Seat: 02-B
Flight Duration: 1 hour 4 minutes
Miles: 281
Meal Service: None
Aircraft: McDonnell Douglas DC9-40
Contact Info (before and after trip):
Send email to us: JOHN (at) LNR (dot) NET Call us: 218.281.3276
The auto-attendant machine will ask you to announce yourself...just say "GERMANY TRIP"
and you'll be put through to one of us. If it circles back, push "1" to leave a message.

United States Postal Service address:
The Late Night Radio Network
% John Reitmeier


28691 230th Street SW
Crookston, MN 56716 USA

DURING TRIP:
German Side:
John's German Handy (cell) 01796 06 7596 (subject to change)
Henry's Förster (Berlin Host) German Handy (cell)

0173 600 75 39
I will be checking email at JOHN (at) LNR (dot) NET whenever I get to a computer.

USA SIDE:
Contact people: Nick or Sean 218 281 2180 Please call 10-3pm Central Time in the USA if possible
Their emails nick or sean (at) LNR.net