Welcome!
Here's things I would like to SELL, PURCHASE, TRADE, and SERVICES I NEED
EVEN GIVE AWAY'S (with a donation to the Million Minute March)
Check back often this will keep changing!
Domains for sale or trade at the bottom of this page.
Page last updated JULY 2008
Unless otherwise noted all things are current as of this date.


Please Follow these Rules!
Best to contact us via email first: john (at) LNR (dot) net
If you must call, 218 281 2180 ONLY between 10am and 8pm M-F Central Time
Items are probably NOT at my place to view, some are in safe deposit boxes, some in storage, some out working or on loan. EVERYTHING IS BY APPOINTMENT
I may not be able to communicate with you right away, please be patient,
my staff probably will NOT have any additional information about anything here!
If a price is listed it's FIRM, please don't try to offer me less, I'll loose interest fast.
If I need to ship something to you, you'll pay only the actual shipping charges. If it needs special crating or packaging that will be extra, but I'm not like those ebay people who just add 7 bucks on as an extra way to make money.



We raised over a million minutes of Long Distance in calling cards for the United States Military. PS. 100% of what was collected went into the purchase of phone cards!

FOR SALE FOR SALE FOR SALE FOR SALE FOR SALE FOR SALE FOR SALE
Almost NEW Johnson Band Organ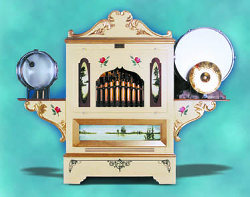 Band Organ, Monkey Organ, Street Organ, Wurlitzer 105 style

105SP This model is very similar to the WurliTzer 105 which was their most popular model.
Fits on traveling merry-go-rounds, great in a restaurant or shopping mall. Really attracts attention. You can hear it 1/2 mile away if the panels are removed!
Considered the "work horse" of band organs, it delights "children of all ages."
The front scenery panels can be left out for more volume.
Custom-painted landscape scenery.
2 Player Piano type Rolls of about 10 songs each included.
Can be converted to MIDI
Was the Mfg demo unit.
Has about 50 hours of playing on it.
Purchase will include a pass through the Manufacturers shop to verify "like new" condition and fix/repair/replace anything needed.
Comes with plywood casket like case to hold drums when traveling and Plywood surround case for main unit!
22,000.00 new Make me a reasonable offer!
Must be picked up, will take 4 strong men to remove it from it's location. I'll make the arrangements to have it visit the MFG, but it must be on the MFG's time and schedule.

Monkey Organ Crank Organ Street Organ
This is one of the most fun things I have. Anytime I've made it available I've found events/cities that will pay me $200.00 for 4 hours of rambling around and cranking out the music. This unit is UNIQUE in that it it totally "old school" in that when you crank, your are pumping bellows which then feed air to the pipes. HOWEVER it's TOTALLY High TECH in that the song selection is not determined by a player piano type sheet of paper OR a set of CARDS OR A CORN COB TYPE ROLLER, BUT is driving electronically with over 100 songs at your beck and call. Just push the corresponding switch/button cleverly hidden in the case and you're playing a new song. Over 2000 songs available from the Manufacturer in Germany! The wood work is AWESOME and it comes with it's own baby buggy type roll around cart. easily comes apart to fit in the smallest car. This is NOT one of those 20 flutes, high pitched squeekers. IT has base notes, chord notes, and 2 Ranks of pipes for melody, Regular flutes and violins. $ 5,500 FIRM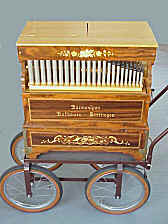 SOLD SOLD SOLD SOLD
For More INFO: http://www.nodak.net/grinder/

Fostex 8 track 1/4" analog tape recorder.


Foxtex 2 track 1/4 inch analog mastering machine with center track.


MD-Report! Junior Used for 1 media trip. Specialty box made to take 2standard broadcast microphone inputs and convert/merge them into signal ready for MD recorder. Runs on 2 9 volt batteries. Also can provide phantom power to microphones. Modem MDR-J Serial number 60515. Can also mix in a line feed, power back headphone monitor, and a stereo/mono choice. Made in England. I don't think they're available anymore. Worked great for me, but I changed over to live shows and don't need it. Make me a reasonable offer! I paid $220.00 for it.

Hammond B3 Organ and matching Leslie Speaker 1961 model. Click free sliders. From 1961 sat in a Lawyers home in Brandon Manitoba. I purchased it in 72. Was on the road with it for 2 years. Then it's sat in my homes since then. Has some typical road warrior damage to case. has 2 sets of pedals! Flip over top is damaged, I'll have it professionally repaired if you want. Or do it yourself. Please don't insult me, I watch these being sold on Ebay all the time! But I will entertain a reasonable offer! Electronics seem to work fine all around. SOLD SOLD SOLD SOLD went to Canada

I have several professional guitars to sell. 2 Gibson's, Chet Atkins models 1 steel string, 1 nylon string.
CHET'S ARE SOLD
Other acoustics, 1 surfcaster that's kind of fun to play. Email me, I'll give you details and pictures. Most kept in a climate controlled vault, so I can only show them with a few days notice and by appointment!!

Zero Haliburton Camera case. The size of a brief case but inside has egg crate on the lid and then is full of foam. Ready for you to cut to fit your cameras or other sensitive equipment. Brand New, been on a shelf for years. has all paperwork but no box. SOLD SOLD


Hey I know this is crazy but they might be just what you want. I have a set of snowmobile bookends. Made from walnut each end with about a 4 inch snowmobile with that fake gold plating like a trophy would have. They're too good to throw away, make me an offer.

Musicman Music Man Amplifier 410 model 60 watts with a 30 watt switch choice. LIKE NEW except one of the turning knobs has the center reflective material missing and a chip in the end of it. $400.00 FIRM New Tubes ($90 bucks) about 10 hours ago. SOLD SOLD SOLD SOLD

Queen Size Sofa with matching Love Seat. Heavy wood construction. Very expensive new. Sleeps very well. All fabric in excellent shape. Old country styling with outdoor/countryside pictures on fabric. This is a very heavy set and they are real classy, I'm just ready for a change and am happy to sell them for 150 for the set. You bring the muscle to move them!

Mamod Steam Tractor miniature. The one with the canopy that goes from the back all the way front past the smoke stack. Probably fired up 4 or 5 times. Lots of fun but then I found it boring. Has original box, all the stuff. Make me an offer.

I have quite a collection of beer steins, mostly from Germany. In the recent years I have been gifted with some new ones so want to move these. Some are quite unique some must hold 2 liters or so. Let me know what you're interested in.


I have a quart milk bottle from Nashville Tennessee for sale. It seems in fine shape. Has red printing on 2 faces.
Also I have an OLD bean pot, traditional styling with a logo from Fosston Minnesota. It's got a crack around the base, only good for a display piece. No cover/cap. make me an offer. Heavy to ship.

Believed to be the entire set of StarTrek the Next Generation Video set many unopened. Some extras.



I have 2 sets of CONN organ pipes. BUT one set has this brass pipe look and one set the pipes are more silver. Seem to work fine. Make me an offer.

26x32 inch Pepsi memorabilia signed Print "Only a Nickel" # 596 out of 1000. Purchased for $325.00 Make an offer. Picture of an old gas station with 2 pumps outside and a big Pepsi-Cola billboard painted right on the side of the siding.

WANTED
ETS Electic Thermal Storage Steffes type. I am looking for passive or fan/active units to use on my OFF PEAK Heating system. Open to any and all possibilities. Any unit that will store OFF PEAK purchased electricity and then feed it to the room as needed. Don't want the one that hooks to the furnace in the basement. Want the European type that sits in the room where it delivers heat and looks like a radiator.
2 Car carport tubing and steel siding type prefer white or red.

TRADE ANYONE?
Most every item on this page, I would certainly be interesting in arranging a trade for something that I can use.

SERVICES / CONTRACTORS WE NEED
Want to convert an 11x11 foot bedroom into a classic looking bathroom. With large 2 person Jacuzzi tub, big shower, twin sinks. Bedroom is located right over basement room where main tube to septic tank goes.

GIVE AWAY (with a donation to the Mt. Sinai Mission http://mtsinai.com )

Twin set of Bull Horns. From Mexico A longhorn steer set above a short horn set. Perfect addition to a South Western Decor SOLD SOLD






DOMAINS FOR SALE:
Although we are open for all offers, and would be glad to discuss how we can use these domains to further your business interests, please don't bother sending $200.00 offers. We have significant time and dollars invested in some of these names and would rather continue using them then giving them away.
This domain will only be sold as a package:
mtsinai.com 800mtsinai.com 1800mtsinai.com and the 800 number 800mtsinai
What a package, this would be a marketing dream... the 800 telephone number matches the website 3 ways, so no matter how they punch it in it will come up for you. Our Mt.Sinai Mission needs funds for a special project and are willing to part with this domain and phone numbers, but only as a unit.
THEMINUTE.com SOLD SOLD
NODAK.net the ultimate for anything North Dakota. Nodak.com is being held by a web name selling company. We've had a ND site up for years. It's ready to transfer to your server. Yes we have established a trademark on this name
AfternoonMagazine.com and AfternoonMagazine.net this was the home for our long running afternoon radio program. We now only do morning radio and so would be willing to let these two go as a set. Or we'll just leave them on our servers as a historical memory.
ClickAndWin.net DialADeal.net both great ideas that we started with and got busy with other things. Buy either trademarked name or both together.
SubmarineStation.com SubmarineStation.de we started a competitor to the infamous sandwich shop, but didn't get into the German market before they expanded there... So our trademark and these domains are available as a package.
SO you're interested in one of these domains. Please either email us at john (at) LNR (dot) net or give us a call 218 281 2810 during regular business hours, central time. Ask for John and tell the person answering that you are calling about purchasing a domain.