December 2001
Monday December 31, 2001 110 Days After


It's the last day of the year. What a year it has been. Both locally and nationally and even world wide it's a different place we leave it than when we entered. Tonight we can celebrate that each of us is here and alive. We remember those we lost this year and those who are hurting and sick. Here's all the locations/schedules for First Night. Cool is OK, keep the wind down.

Friday December 28, 2001 107 Days After


New to computing? Hearing all sorts of terms that don't make any sense? Here's a great Glossary of terms you'll want to know. So that's what that means!

Thursday December 27, 2001 106 Days After


Today is the Feast of St. John Day! The day to bless the new wine. Grown last summer, pressed last fall, ready to taste. Here's tradition and facts. I'm on my way...happy St. John Day

Wednesday December 26, 2001 105 Days After


Boxing Day! What's it's roots? Boxing up the Christmas decorations? NO. Taking unwanted or wrong gives back to the store? NO! It's the Feast of Stephen and the history of Boxing Day goes back to that. Facts or fiction...take me


Tuesday December 25, 2001 104 Days After


Merry Christmas!


Monday December 24, 2001 103 Days After


This is such an important day to me and my family. Not for the gifts and the food, not for being able to see folks who we don't normally see or have visit, but because of the renewal of hope in celebrating the miracle of what happened back there 2000 years ago. May you have the Merriest of Christmas's! Thanks to Jim Bollman for making my job fun!


Friday December 21, 2001 100 Days After


135 Ways to say Merry Christmas Happy Holidays from ALL of us here at John Reitmeier's Cool Site Pick of the Day!


Thursday December 20, 2001 99 Days After


More Christmas Riddles Joke Joke Joke


Wednesday December 19, 2001 98 Days After


AH Yes, it's time to fire up the ovens cause we need cookies for the holidays. Cookies, cookies and more cookies.
I want the ones with the stars on it!


Tuesday December 18, 2001 97 Days After


Haven't trimmed your tree yet? Save time, save money, do it the cyber way. Also keeps the kids busy waiting for that big dinner.
Put the start on the top!


Monday December 17, 2001 96 Days After


xLast minute preparations, running here, running there. Let this website bring everything into focus!
Do I have room on my schedule?


Friday December 14, 2001 93 Days After


Food, Food and more Holiday food! You've got to make some of these recipes! Yum Yum Yum


Thursday December 13, 2001 92 Days After


Jingle Bells Jingle Bells Jingle all the way! Christmas is right around the corner...Here's some FUN Christmas links. Jingle Jingle Jingle


Wednesday December 12, 2001 91 Days After


Food, Food, Food! We all love it. There are so many choices to get it served up for us. Some area great, some are good, some...well, maybe a pass would be in order. Here's my views of joints around the world. Please ADD YOUR experiences!
take me to the food pages


Monday December 10, 2001 89 Days After


Billy Bass...the hit gift of last year. If you are handy with a soldering gun, you can now reprogram him to say anything you want. Amuse yourself, surprise your friends. B-B-B-Bad to the B-Bone


Friday December 7, 2001 86 Days After


Pearl Harbor remembered. Pictures, stories and more.


Thursday December 6, 2001 85 Days After


Pizza, Homemade pizza YUM here's a bunch-a-recipes!
Regular, thick crust, and dessert pizza!


Wednesday December 5, 2001 84 Days After


Winter Storm "Bonnie" Rain and Ice. There's 200+ years of storm history here. Oh the weather outside is frightfull!


Tuesday December 4, 2001 83 Days After


So many virus emails coming to listeners boxes. But they're almost ALL hoaxes in some way or another. Here's Norton's site that is a good place to check if your email warning has any validity. Of course we suggest that you have good anti-virus software in place at all times. The email says I've got a virus, How do I find out.

November 2001
Tuesday November 27, 2001 77 Days After


Frosty the Snowman's season has arrived! How about some Frosty jokes, you'll need these by the ice-cooler....I mean the Water Cooler! Cool Man!


Monday November 26, 2001 76 Days After


Wind chill...brrrrrr. But it's not such a BRRRR anymore. The weather service changed the ratings... So when you think it's cold, you can remember that it's not as cold as it was last year. Hey CHILL OUT!


Friday November 23, 2001 73 Days After


It's the big shopping day and I'm tired already! So why not put a little Christmas flavor on your web site! Here's a page with tons of animated images to give you pages a little Christmas flavor.
Take me



Thursday November 22, 2001 72 Days After


Happy Thanksgiving

Wednesday November 21, 2001 71 Days After


Thanksgiving week...so much to do and time goes so fast! Here's another fun T-Day Site. Happy Thanksgiving

Tuesday November 20, 2001 70 Days After


Turkey's are a thawin' and the minutes are counting down. Ben & Jerry have always had a great Thanksgiving site...here's this years version. Get the Platters Mother!

Monday November 19, 2001 69 Days After


What a day Nov. 18th is. President Lincoln say's, "the world will little note, nor long remember what we say here." But the world has noted, and much remembered that speech at Gettysburg. Here's a great site about it. Four score and . . .

Friday November 16, 2001 66 Days After


Sometimes I hear a Latin sounding law term and I have NO IDEA what it means... well no problem, check this web site of law terms and explainations. Take me to the Law Words

Thursday November 15, 2001 65 Days After


Should they stay or should they go? The Twins can't leave Minneapolis, or can they? Visit their web site, vote to keep them or send them away. http://minnesotatwins.com

Wednesday November 14, 2001 64 Days After


Time to get a leg up on Thanksgiving preparation. Need a jump start? Here's a super duper booster page. Gobble Gobble

Tuesday November 13, 2001 63 Days After


Weather history can be fun. Do you remember a significant weather event in the last 7 years? Check it out here. Try the flood dates, or August 9 of this year.

Monday November 12, 2001 62 Days After


Veterans Day Holiday, Thanks to ALL Veterans everywhere. You sacrificed so that we can sit here and debate issues of secondary importance. The Department of Veterans Affairs has a great page to remember today! Salute!

Time for a little vacation. Took 3 young men from Germany from Minnesota via Denver to Las Vegas, then Los Angeles, then back to Las Vegas, then north through Salt Lake City and over to Mount Rushmore. Then home through the badlands of North Dakota.
October 2001
Friday October 26, 2001 45 Days After


So little time till Halloween, have you got your pumpkin carved? What's wrong with triangles for eyes?

Thursday October 25, 2001 44 Days After


Storm continues. Halloween nears! We need some new recipes. Here's BIZARRE ones for sure! UH YUCK TAKE ME YUM
By The Way: If any well meaning person says you shouldn't celebrate Halloween if you're a Christian, ask them to explain COLOSSIANS 2:16-17


Wednesday October 24, 2001 43 Days After


What happened? 5 inches of snow? WOW Officially designated Snow Storm Alfred. I've got the following site marked as "best weather" on my favorites. I think you'll like it too!
Weather, take me to the Weather

Monday October 22, 2001 41 Days After


Just nine days to go till Halloween. What's this year's good looking "trick or treater" wearing? Somehow I'm thinking that costumes from the movie Aladdin aren't to popular! Where BOO's aren't bad!

Friday October 19, 2001 38 Days After


The World Wars need to be remembered. Is what's happening now a reflection of these disputes or something new? Here's a site with over 400 links to WW I and WW II information.
Over there....Over there.

Thursday October 18, 2001 37 Days After


Halloween is coming....here's LOTS of Halloween games for you to play on the internet...keep those kids busy!
I want to play...can I be a kid?


Wednesday October 17, 2001 36 Days After


Johnny Appleseed went around the east planting apple seeds that grew into into great apple trees. It's a new millennium and our "sprouts" come to us in different ways, but they still give us the same joy! Here's a cyber version of apple seeds. Read and be inspired. Plant 1 here, Plant 1 here.

Tuesday October 16, 2001 35 Days After


OK there's 14 days till Halloween...Time to start on the Halloween Jokes! Here's dozens of the best. Catch your friends in these.
Q. Why did the headless horseman go into business? A. He wanted to get ahead in life.

Monday October 15, 2001 34 Days After


What's all this about anthrax? Here's 10 things you need to know to stay calm about all this media hype. I'm calm..take me

Friday October 12, 2001 31 Days After


We're in the Halloween month...yippee! And it's time for the Halloween countdown. Let's start with this fun Halloween site.
BOOO #1




Thursday October 11, 2001 30 Days After


Well...it's been a month. The tragedy has settled in our minds, but now there's a war. New York is "open for business" according to the Mayor. Here's their main web site. New York New York



Wednesday October 10, 2001 29 Days After


Can't find a flag anywhere? Walmart had some 3x5 foot cloth material printed with flag logo. For hanging inside only. Otherwise, here's a site to print out a variety of sizes
OH say can you see my flag?




Tuesday October 9, 2001 28 Days After


Just some fun today. Steve Enger has transformed their family farm into a Halloween Paradise! Family Friendly (even the haunted house). Even the web site is a fun place. Visit the web and the actual farm. Spoooooookey...take me.



Monday October 8, 2001 27 Days After


The response has begun. England and Prime Minister Tony Blair are standing tall next to us! Thanks! Here's the BBC's slant on what's happening. Take me to the BBC Mate'


Friday October 5, 2001 24 Days After


The weekend is upon us. Will the Fighting Sioux be victorious? Beat the Bison, Beat the Gophers! If you aren't sports oriented, how about a trip to the east...the Minnesota North Shore that is. Here's their official website. Take me to the leaves.


Tuesday October 2, 2001 21 Days After


We have seen so many images, but now there is coming the audio of the emergency workers. It's poignant, and gut wrenching, but it really brings you a feel for what those folks went through!
Take me to the sounds.


Monday October 1, 2001 20 Days After


This is the big week, the Ralph Engelstad Arena opens. Here's the official web page. What a place...take me.
---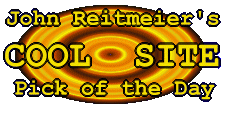 ---
? 1999 copyright John Reitmeier / theminute.com - all rights reserved.