December 2000
Wednesday December 27th, 2000
Time to practice your "happy new year" greetings for FIRST NIGHT. Here's how to do it in most of the important languages. (sorry Jim, no Swedish!)
TAKE Me
---
Friday December 22nd, 2000
Merry Christmas everyone! Here's how they do it in several countries
around the world.
TAKE Me
---
Thursday December 21st, 2000
Legends...so many Christmas legends, here's an explanation of the most of them. TAKE Me
How the Robin got a red breast, the Holly Wreath, and the Lambs Woolly Coat. just a few.
---
Wednesday December 20th, 2000
Stormed in today? Kids home from school? Here's a great site full of Christmas Trivia. TAKE Me
Pick your day-see if you can answer the questions.
---
Tuesday December 19th, 2000
Santa has his favorite food too, and Mrs. Claus has graciously agreed to share the best. TAKE Me
I like the hard sauce best.
---
Monday December 18th, 2000
Gingerbread...from only one place in the universe.... Nuremburg Germany, Since 1614. WOW Here's the history and also some great things to make during the holidays. TAKE Me
YUM GOOD STUFF
---
Friday December 15th, 2000
It's almost live, it's happening right now...check out these views of Jupiter as our man made ship travels by. TAKE Me
A little slow to load but what a view.
---
Thursday December 14th, 2000
Remember Dan Quale? Fun phrases shot from the hip... I think we got another one like that...check this out! TAKE Me

"They have miscalculated me as a leader." "They misunderestimated me."—Bentonville, Ark., Nov. 6, 2000

WHOA BABY
---
Can you believe it...just 75 years ago today a new word entered our
vocabulary. MOTEL and wow...what a change in Americana!
TAKE Me

Here's the place and the details on the very first MOTEL. Leave it to California.
---
It was the year 1719, it was today. Did something change with the earth? Why is this date the first recorded Aurora Borealis?
Here's some GREAT photo's of the magic in the skies!
TAKE Me
---
MORE COOKIES!!! Holiday cookies and all the good stuff.
Plus some fun humor on those days when you don't want to cook.
TAKE Me
---
Thursday December 7, 2000
YUM Recipes from around the world. Even instructions on what to leave Santa.
TAKE Me
---
Wednesday December 6, 2000
Yum, time to start planning those special Christmas foods! Here's lots of Christmas recipes, some traditional, some brand new!
TAKE Me
I still think deep frying a turkey is weird!
---
Tuesday December 5, 2000
Time to purchase some oranges or some Coal...cause in the morning you should put one or the other in your children shoes. It's the Celebration of St. Nicholas. December 6th...a big day in Europe. Have you been naughty or nice? Tomorrow you find out!
TAKE Me
---
Monday December 4, 2000
Just how do they do Christmas in far away places? Here's a world map that you can click on and get first person stories about celebrations that are quite different from ours.
TAKE Me
---
Friday December 1, 2000
RED HERRING lots of technology news. Find out what's happening. Sound good at the water cooler!
TAKE Me
November 2000
Thursday November 30, 2000
Tired of ballots and chads? Let's go to the real chad...in Africa and hunt some Dino's. Real OLD Dino's.
TAKE Me
One of the best sites I've seen. Check it out even if you don't like
Dinosaurs...cause they've really done a nice job on the site.
---
Wednesday November 29, 2000
Most of us are anxious for the election to be settled, but wait...are all
the things we're hearing true? Possible not!
Here's some of the statements people have made about past elections and what some truths might be.
TAKE ME
Will this bring out more folks to vote next time? Or are people going to stay away cause they don't care?
---
Tuesday November 28, 2000
Can't get enough? Contribute to CNN's Spin Site and you might get your comments on the air.
TAKE Me
---
Monday November 27, 2000
Want a different slant on all 'lection stuff? Here's the Capitol Hill Blue page. TAKE Me
Check the video clips...especially the ads...we haven't changed much in the last 40 years.
---
Friday November 24, 2000
Tired of the confusing stuff about Florida's election laws... Here they all are.
TAKE ME
FINALLY AN END TO THE CONFUSION
---
Thursday November 23, 2000
What would Thanksgiving be without a butterball turkey? Here's Butterballs official site.
TAKE ME to the turkey.
GOBBLE GOBBLE GOBBLE
---
Wednesday November 22, 2000
It's Thanksgiving time. Here's the history, and the fun of the holiday.
TAKE ME to the turkey.
Don't forget butterball.com if you have turkey problems.
---
Monday November 20, 2000
Was it just back in 1966 that Cabaret opened on New York? Did you enjoy the movie? The stage play is much different. Here's the details of the stage play.
TAKE Me
---
Thursday November 16, 2000
Are they listening? Today, 36 years ago we sent a signal to the
universe...kind of a "hello, we're here and we know it!" Here's the
message, and the details.
TAKE Me

Do you think anyone will be there to hear it? I'm not holding my breath cause it's going to be 48,000 years to find out... well now only 47,964 years.
---
Tuesday November 14, 2000
Every year we find out the newest, coolest things at Comdex in Las
Vegas...this year is no exception...here's the highlights.
TAKE Me

Even Boeing is in the mix with high speed internet in airplanes...coming!
---
Friday November 10th 2000
Was it just 31 years ago that Sesame Street Started? WOW, are you BSS (before Sesame Street) or ASS (after SS) (Smile). Here's their official web home.
TAKE Me

What do you think? Do kids turn out better for having grown up with Sesame Street or not?
---
Thursday November 9th 2000
History in the making. Eleven years since the fall of the Berlin Wall. Here's their official page.
TAKE Me
---
Wednesday November 8th 2000
Who will be the next President? This site will keep you up to date.
TAKE Me

We are part of history in the making.
---
Tuesday November 7th 2000
Tomorrow there be a new face to add to this list. This is the official Portrait and info page for each president from the very beginning.
TAKE Me
Look at how the painting styles changed over the years, and how it reflects culture in each decade.
---
Monday November 6th 2000
Do you try to go to a web site and just get delays or errors messages? Here's a jumbo site that monitors the major routers around the country. If Denver is out, chances you can't get to web sites that are over there...and email and such might not work either.
TAKE Me
Check the international Charts too.
---
Friday November 3rd 2000
It's something everyone should know, but let's hope we never have to put it in practice.

TAKE Me
Check the fact sheet...interesting info...are you in the risk group?
---
Thursday November 2nd 2000
It North Dakota's Birthday. Statehood came today a long time ago. Do you know the official State Hymn? Here it is! TAKE Me

Play the MIDI file and sing along!
October 2000
Tuesday October 31st 2000
HAPPY HALLOWEEN! This the mother of all Halloween sites...fun, games and music.
Take ME
---
Monday October 30th 2000
Wow the text to "the legend of sleepy hollow!" read it to your kids.
READ - Take ME
or better yet listen to the real audio version!
---
Friday October 27th 2000
What a fun site...lots of graphics and recipes!
FUN SITE - Take ME
Have purchased you candy yet? I am coming to your house for Halloween!
---
Thursday October 26th 2000
The countdown is in progress. Halloween is just days away. Here are some stories about haunting in Mississippi. Real?
YOU DECIDE - Take ME
I picked these cause they're far enough away.
---
Tuesday October 24th 2000
Wow it's the Halloween season...where did it start? What was it called?
I'm torn...as a Christian person, SHOULD I participate? Take ME
---
Monday October 23rd 2000
In this modern world you'd think that translation would be a simple thing...hmmm. It seems like folks just can't get it quite right. CHECK mother of all miss-translations sites.
"When a passenger of foot heave in sight, tootle the horn. Trumpet him melodiously at first, but if he still obstacles you passage, tootle him vigor." - From a brochure at a Tokyo car rental firm
---
Friday October 20th 2000
All this new of turmoil and fighting and fighting in the Mid-East. Here's a little counterpoint! It's the Wailing Wall, the last remaining wall of the temple in Jerusalem. Send a prayer for peace!
Visit the section for non-Jews. CHECK THE WALL - Take ME
Words we should all live by
---
Tuesday October 17th 2000
It's a new millennium, time for a new "automated" weather man. Yes mother nature is NEVER wrong! CHECK THE STICK - Take ME
If it points down to the ground, it's not a pleasant weather day, if it's pointing straight to the left, it's sort of a neutral day, if it starts aiming skyward it's a wonderful day!

---
Monday October 16th 2000
The Grand Cities very own Al Berger will be featured as an expert on a PBS series about the Rockefellers. After today you can view the script here CHECK THE Script - Take ME
You Tell 'Em, Al!
---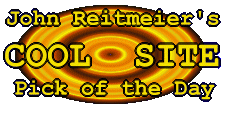 ---
© 1999 copyright John Reitmeier / theminute.com - all rights reserved.