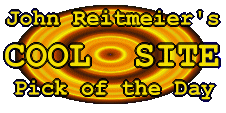 Back to the current Cool Pick Sites
Click Here To send us mail, your favorite site or any comment!
---




We want to add your WEB Page to our Midwestern list (coming soon) Please Email us with your URL, we'll check it out, and you'll be added!

---
Wednesday June 30th 1999
GOODBYE JUNE Do you have Austin Powers fever? Get the teeth he uses... CHOPPERS ARE FOR ME - TAKE ME Hippie Hair TOO.
---
Tuesday June 29th 1999
It's the Dull Men's Web Pages...how DULL can you get? DULL DULL - TAKE ME Check the Dull Men's Jokes...
---
Monday June 28th 1999
It's the newest, it's a hybrid..combination electric car and little recharging motor. Someone purchase me one! WOOPIE - TAKE ME 70 Miles per gallon...this I like!
---
Friday June 25th 1999
Only 2 more days till North Dakota Residents can purchase FIREWORKS. Here's a FREE Display from GENEROUS JERRY'S. It will hold you over till Monday. POP BOOM BANG AWWWWWW - TAKE ME MAIL ORDER DELIVERED RIGHT TO YOUR DOOR!
---
Thursday June 24th 1999
Time for some cowpokin' fun! YEEE HAW - TAKE ME CHECK THE Western Poetry and Humor!
---

Have to stay home tonight but just have to have some Chilli's Food, or Taco Bell? Here's TOP SECRET RECIPES! YUM YUM TAKE ME - TAKE ME Egg Rolls, Sauces, Wings, they're ALL here!
---
Tuesday June 22nd 1999
Here's the TOP 100 things that happened in our century that changed the face of business! And Bill Gates is NOT #1 WHAT IS BAKELITE? - TAKE ME Can you guess a few before you look?
---
Monday June 21th 1999
Not sure just how to tell a search engine just what you're looking for? Here's a primer that tells you the best way to attach each search engine to get the results you want. WAIT WHAT HOW DO I DO THAT? - TAKE ME Alta Vista, Yahoo, Hot Bot...they're all here!
---
Friday June 18th 1999
Are you ready? Fathers day is just around the corner. Here's lots of cyber Fathers Day Fun I've GOT MY CARD - TAKE ME WOW can this be the beginning of the end of summer?
---
Thursday June 17th 1999
Fathers Day is just around the corner, do you have a present for Dad yet? Here's a chance to win him a book from the Lutheran Laymen's League, or you can send a beautiful Fathers Day card cyberly. I GOT TO TRY THIS - TAKE ME Don't forget to place that actual, physical call on Sunday also, this doesn't let you off the hook!!
---
Wednesday June 16th 1999
Everyone should be out in the sun, but if you're in, here's a GREAT site of Unusual Facts! I NEED TO KNOW THIS STUFF - TAKE ME Fact #46. Mozart never went to school. Fact #47. Smokey The Bear's original name was Hot Foot Teddy. Fact #48. Queen Elizabeth was an 18 year old mechanic in the English military. Fact #49. The actual playing time in a Major League Baseball game which lasts two and a half hours has been clocked at 9 minutes and 55 seconds. MORE MORE MORE
---
Tuesday June 15th 1999
Riddles...REALLY GREAT Riddles WOW WHAT A STUMPER - TAKE ME Tear one off and scratch his head, What was once red is now black instead. What is being referred to?
---
Monday June 14th 1999
It's Flag Day. Here's everything you need to know about flying OLD GLORY I'm READY TO PUT HER UP - TAKE ME Always on the flag's right!
---
Friday June 11th 1999
Today is the Feast of the Sacred Heart. Here's history and some about Sacred Heart in East Grand Forks TAKE ME It got it's name by a 3 to 2 vote.
---
Thursday June 10th 1999
It's JUNE, the month for getting married. Here's a whole collection of absolutly gaudy wedding dresses AND THE BRIDE WORE - TAKE ME The comentary is hilarious!
---
Wednesday June 9th 1999
Lot's of Moisture in North Dakota this spring/summer. Check out these arial pics of several sections of land in Middle ND UP UP UP AND AWAY - TAKE ME And there was more last night.
---
Tuesday June 8th 1999
Royalty comes to Grand Forks. Norway's Crown Prince arrives today. Here's LOTS of Norwegian ancestoral and info links. TAKE ME TO THE NORWAY STUFF Check all the Norway Web Cams..these folks are into the internet.
---
Monday June 7th 1999
What are you putting in your birdfeeder these days? Here's the national birdfeeding site. CHEAP CHEAP - TAKE ME Should we really feed peanut butter to our fine feathered friends?
---
Friday June 4th 1999
You've seen the "where are they now" shows on TV, but those are for folks/animals who are still alive, what about those who are gone. I've BROUGHT FLOWERS - TAKE ME Divided by location, or claim to fame, or names.
---
WHAT HAPPENED TO THE TIME? WE carried the cool site over to Friday
---
Wednesday June 2nd 1999
Can you count to 10 in 200 languages? Now you can. 1 2 3, no eins zwei drei, no uno dos tres, YA THAT'S IT - TAKE ME And you thought school was difficult!
---
Tuesday June 1st 1999 WELCOME JUNE
Newly-hatched Internet jargon, Get it before WIRED MAGAZINE does!
I'M HIP, I'M IN TOUCH - TAKE ME
Recent entries include
netopath
, the most deranged type of Net abuser;
dog-food
, as a verb, meaning to use your own product; and
e2e
, an alternative to "take it offline," for a conversation which should be continued in private email.
---
Back to This Month's Cool Site List
---
Back to This Month's Cool Site List
---
---
© 1999 copyright John Reitmeier / theminute.com - all rights reserved.