September 2001
Friday September 28, 2001 17 Days After


Windows XP is only a month away, are you ready? For all the information you want, and to take a tour of the new software, visit the Microsoft XP homepage.

Thursday September 27, 2001 16 Days After


Every calendar tied to what day it is. "When do you want to go today?" Does anybody really know what time it is?

Wednesday September 26, 2001 15 Days After


It seems that most of the global problems, which are affecting us globally, nationally, regionally, locally, even personally, are based on religious intolerance or misunderstanding. This site has it all, major and minor religions, even styles of belief. But be aware, it presents all sides, and tries to do it equally. A great resource!
I'm ready, take me.


Tuesday September 25, 2001 14 Days After


What kind of virus scanner are you running?? It's time to make sure you are protected. Another new virus on the web, taking advantage of our recent tragedy. It's called the Vote worm virus and comes in the attachment wtc.exe. Visit our favorite virus scanner provider. Click on the Vote virus for more information.


Monday September 24, 2001 13 Days After


This is the 1st time that the cool site has asked you to do something. It's one of the most amazing coincidences I have ever seen.
Run MSWord
Type in the Capitol letters N Y C
Enlarge the font and change it to the font named Wingdings
See what you get..... NOW
Change the font type to Webding and then see what you get.
It's got to be just a coincidence, but how unbelievable!!


Friday September 21, 2001 10 Days After


Summer's passing is hardly noticed. Usually the picks aren't sad, but if you can look through this entire site and not shed a tear, then you're in denial or something. This is a collection of pictures from around the world of how each country mourns with us over this tragedy. It really touched me! (thanks Bruce Gjovig for sending this site) I'm ready, please take me.


Thursday September 20, 2001 9 Days After


So much news coming at us from so many sources. Here's the news in Germany, but it's in English. Some good support from the Chancellor!
OK Show it to me from the other side of the pond!


Wednesday September 19, 2001 8 Days After


So many places to donate. The president is suggesting http://libertyunites.org visit the official White House website.
http://www.whitehouse.gov


Tuesday September 18, 2001 7 Days After


We're hearing names, so many names. Where do they fit into the world and the US? Here's a site where you can find out things about your last name, or others. Just put the name you're interested in in the space in the upper left. Were do you fit in the list?


Monday September 17, 2001 6 Days After


Time Magazine has created a great photo layout of this past week's activities. I'm ready to see it again.


Friday September 14, 2001 3 Days After


What a week! Yahoo has put together a large group of links that will give you a good handle on the tragedy. Take me.



THOMAS E. FRANKLIN/THE RECORD/AP
Thursday September 13, 2001 2 Days After


The list grows. Famous people, regular people. Some were scared, some were heroes, most we'll never know about. Our prayers are with those left behind. Let me review the list.
This in from Jan Teuber, a foreign student who lived in Grand Forks last year and graduated from Red River High School.
My Dear Friends,
When hearing about that tragedy happening just a few days ago, I was more
than shocked. it was agonizing to see those pictures that are all over TV now.
at first I heard about it on the radio, sure that something like that could
not possibly be true - but I was wrong. it was a terrible evening and an even
more horrible night.
Some people might think that this is an internal problem for the us, but
those are wrong. we are as involved over her in Europe. now we are showing our support for the American people, which puts us on some list as well (if we
haven't already been on there before). but that is secondary! It seems the most
important to me that the western countries and their supporters work together
now, thinking carefully about the consequences of their doing. at that point
I'm proud that the first statement of solidarity from any European country
came from Berlin. Although that might not be happening enough, you should
appreciate these signs of unity. they're are base for further steps.
But I think that you all are moved enough by now, and I don't want take too
much of your time, so I wish you the best and believe in the strength that
you praised that often. it might be a wound, but it is certainly not lethal, is
it?
So, may God Bless America (and I do mean that).
Yours Sincerely,
Jan.


Wednesday September 12, 2001 1 Day After


Images, memories, forever ingrained on our hearts. Here's photos from CNN. Show it to me again. Can we find more survivors.

Tuesday September 11, 2001
It's 9/11 - 911 And with the terrible tragedy in New York we did not find anything "cool" today. Our prayers are with the victims of this terrible action by faceless, spineless terrorists.
---
Monday September 10, 2001
Just can't figure out levers give you more power? Do the kids bring home physics homework and it's baffling to you. Here's a fun site that explains in your language how all these things work. I can do this!
---
Friday September 7, 2001
Is it "alot" or "a lot?" "Lie" or "Lay?" and dozens more. Well, Dr. Grammar has the answers. Possible the best thing to come out of Northern Iowa! Link my verbs and take me to the site.
---
Thursday September 6, 2001
Can't get to "the Ralph" today? Here's dozens of inside pictures of what you can see. Take a trip without leaving your desk. I've got my Hardhat, I've got my lunch..take me on the tour.
---
Wednesday September 5, 2001
You don't know a language until you know those little phrases that make up the canvas of feelings. "To be down on one's uppers. To pull out all the stops. To have been dropped on one's head by one's mother." They all have different meanings when you're translating the literally. Here's tons of idioms and sayings with their German counterparts. HE SAID WHAT?
---
Tuesday September 4, 2001
It's Fall Color Season, not to day, but pretty soon, and you need to get ready. The Forest Service has a great "reporting" page so you can plan your routes. Take me to the colored leaves.
---
Monday September 3, 2001 Hello September, Happy Labor Day!
They've arrived, the pictures from our trip to England and Turkey. Thanks to Staff Sgt. Scott Sturkol, Public Communications Chief and our host on the trip. The picture book requires java script, if you can't see the pictures, please email me. Up up and away!
August 2001
Friday August 31, 2001 (Goodbye August - is it Goodbye Summer?)
Yesterday we talked about the zoo in Minot. I mentioned that they only have prairie dogs. Well I was wrong, if you go to their very nice web page, it says they're closed. HMMMM Actually they're open and they have over 200 animals. Visit their website...then visit in person. ZOO ZOO let's go to the ZOO They're open till Sept 30th.
---
Thursday August 30, 2001
So many places, so little time. Here's some western ND places and stories that should interest you. The Worlds' biggest in ND?
---
Friday August 17, 2001
Minnesota places to see and do. Take me to MINN
---
Wednesday August 15, 2001
I spy, Mission Impossible, the Saint, all used gadgets, many of which have actually been created. See the shoe phone, Dr. Evil's Ring and many other Spy things at this CIA site. Open Channel D
---
Tuesday August 14, 2001
Life goes on...most days things just inch along, but every once in a while we're in a real pickle! How to escape from quicksand, how to land safely even if you parachute doesn't open...important things to know. It's worst case senarios. I'm Ready to Jump, take ME
---
Monday August 13, 2001
What a weekend, Chili Cook-off was spectacular. The duo that we interviewed on Friday won the CatsIncredible Catfish Tournament. The weather was spectacular. Plan to enter next year. Have you seen those expensive, hang on your wall, show you where there is daylight on the earth clocks? They cost about a thousand dollars...but NO MORE! Here's one that's on the internet and it's Free!
Show me now.
---
Friday August 10, 2001
Russell F. Hons has used his investigative skills to seek out some of the more dramatic damage from Wednesday's storm. Visit the pictures, tell your friends. Show me the Damage!
---
Thursday August 9, 2001
It's the morning after. The storm had come and gone and now the cleanup begins. We lost all our 40 year old pine trees, the apple trees are broken in half and laying on the ground, the boxelders are tipped over and several ash are snapped off at about the 7 foot level.
---
Wednesday August 8, 2001
Time to redress the president? Here's a fun site, change his hair, change his smile, change the background.
Take me to DubbaU
---
Tuesday August 7, 2001
Just a silly fun site, but worth the visit. The Human Clock. Only the digital is now working, but he needs more of the 1440 times in a day. Send it yours! WOW when they say the big hand they really mean it.
July 2001
Tuesday July 24, 2001
Remember the statement, "If you put a million monkeys in a room with a million typewriters, one day they would type Shakespeare's works. The internet has proved that theory wrong!" This is a fun site by the Oxford Dictionary folks, all about words and their use! Find out what a Hottie is!
---
Monday July 23, 2001
It's a national debate! Should Subway have changed their CUT of their bread? Are folks happier with the new "through the middle" as opposed to "V" that we were all used to. Here's where you can sign in on the discussion. VOTE VOTE I WANT TO VOTE
---
Wednesday July 18, 2001
Remember the old joke that you can ask the FBI for any files that they have on you...only problem is that if they didn't have a file before you ask, they do now! Here's a big list of people that they have/had files on. Coming to your via the freedom of information act. WOW Lucille Ball registering as a communist? TAKE ME TO THE LIST
---
Tuesday July 17, 2001
There's been lots of optical illusions on the net, but Jodi found some good ones! New ones too. Check them out. PS. there's 4 different pages you can go to from this one.
I DON'T THINK I NEED GLASSES
---
Monday July 16, 2001
It's been announced, John's on his way to Turkey! Here's a little primer that will give you some fun info on this Euro-Asian, ancient place. (Note: there will be NO repeat of Midnight Express!)
UP UP AND AWAY!
---
Thursday July 12, 2001
What does it mean when your asking someone a question and they put their hand behind their head? Or when they clear their throat before the answer? How about crossing their legs? We live in a world of non verbal signals. It's time to zone in on these. Here's the total list along with examples. I'm ready to learn..Take Me!
---
Wednesday July 11, 2001
Have you been Gooed? Yuck...but there's no mess...no fuss, just lots of fun! Goo your favorite celebrity! I'm ready to Goo - Take me!
---
Tuesday July 10, 2001
State Symbols, State Mottoes, State Nicknames, Origin of State Names, and dozens more lists about states. More interesting than you can imagine. I'm All State'd Up...Take me! What was the first state to enter the union after the 13 colonies?
---
Monday July 9, 2001
Volcanoes are erupting regularly, but some are really hitting at the moment. Here's a world collection of the volcanoes and their status. Live cams where the action is! Eruptions "r" us...take me.
---
Friday July 6, 2001
Live from Studio A - It's Jim Bollman's birthday.
---
Thursday July 5, 2001
Until the late 20th century, traffic cones were not thought worthy of scientific study. It is the Society's mission to counteract these centuries of neglect. I want to save the cones, take me.
---
http://www.founddogtags.com/ For your info
Wednesday July 4th, 2001 Happy Birthday 225 America
Get out and spend some time with your neighbor! Visit this 4th of July Website. Take me to the Page.
---
Tuesday July 3, 2001
It was 1863, a battle had waged for 3 days and finally Gettysburg was over. Here's the story, the lead-up, and the finish.
Four Score and seven years ago...
---
Monday July 2, 2001
Yesterday was "Canada Day," As big a celebration as our 4th of July. Here's some easy history of the first peoples and the early settlements.
Take me then eh?
---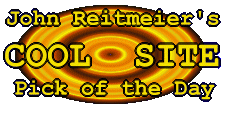 ---
? 1999 copyright John Reitmeier / theminute.com - all rights reserved.