March 2001
Friday March 30, 2001 Goodbye March
We're used to the American style of journalism, but all over the world are folks covering all sorts of events. Here's a collection of writings about unusual and far away places.

TAKE Me
---
Thursday March 29, 2001
WOW, just 115 years ago today, a pharmacist put together a concoction of leaves and nuts from the 4 corners of the world, and Coke was invented. They have one of the most awesome built sites I have been to! Check it out.

TAKE Me
---
Monday March 26, 2001
WHOA BABY, can you imagine living permanently on a mile long ship? Airport on top, traveling the 7 seas. No taxes, All FUN? Here's the ship...All Aboard!

TAKE Me
---
Thursday March 22, 2001
WOW How about those girls BB players from UND! Here's their extremely COOL SITE.

TAKE Me
---
Wednesday March 21, 2001
Just how much is Bill Gates worth? It changes from day to day...it jumps up and down by as much as a billion in a day. Check out today's Bill Value.

TAKE Me
---
Tuesday March 20, 2001 WELCOME SPRING
How can spring come without remembering those great songs of our youth. I hum AMERICAN PIE often, and for sure today! Here's AMERICAN PIE explained...every line, and it's references to actual happenings. Don't let me catch you singing it by the water cooler!

TAKE Me
---
Monday March 19, 2001
ROCK AND ROLL...memories, what ever happened to old what's his name? Here's articles, news, and great comments on the old hitmakers.

TAKE Me
---
Friday March 16, 2001
It's time to be puttin' on a lil' green...Sunday comes the Irish! 'ere's a fun St. Paddy's day site.

TAKE Me
---
Thursday March 15, 2001
Do you write down a phone number and then forget who's it is? That late call in the night and then a hang-up...who's calling you? Here's a reverse phone lookup...you punch in the number, it tells you who owns the phone and their address.


TAKE Me
Try 202-456-1414
---
Wednesday March 14, 2001
Movie time...the weather warms, folks drop by the many choices for movies...here's where to get the scoop on what's coming soon...Trailers, gossip, info.


TAKE Me
Keanu signed to do Matrix II and Matrix III
---
Tuesday March 13, 2001
Pennies, Pennies everywhere...but how many does it take to make a pile as big as a school bus? What does a billion pennies really look like? Here's the stack-o-pennies site.


TAKE Me
PS. Thanks for all the calls!
---
Monday March 12, 2001
How presidential speeches have changed. When FDR did his Fireside Chats, the tone was quite different. Check the entire scripts of his message out.

TAKE Me
---
Friday March 9, 2001
President Bush has come to North Dakota...and he spoke at length about Agriculture. Do you believe him? Phrases like "level playing field" have been around a LONG time. Let's see what the 3 country wide farm groups have to say about what's happening in American Agriculture.

American Farm Bureau

National Farmers Union

National Farmers Organization (NFO)
---
Wednesday March 7, 2001
It was just 66 years ago today...something happened that changed the world forever. Charles Darrow invented Monopoly...How many hours have you played? Come on now, be honest...

TAKE Me
---
Tuesday March 6, 2001
Got a wedding or party coming up you want to pick music for? Here's a master list divided by decades.

TAKE Me
---
Monday March 5, 2001
Quick...name 50 things you think that the US government achieved in the last 50 years!!! WOW I was stumped. BUT here's the list... Do you agree?


TAKE Me Lazy...OK here's the top 10.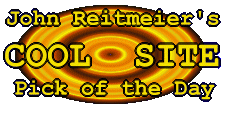 ---
© 1999 copyright John Reitmeier / theminute.com - all rights reserved.