Wednesday, March 31, 2004 Goodbye March
A big day in the broadcast world. The liberals have started their own 17 hours per day, talk show network. It's headliner, comedian? humorist? author? Al Franken. Like 'em or not it's going to be interesting to see what comes of this new broadcast stream. Here's their web page. Air America Radio
Tuesday, March 30, 2004
The peregrine falcons have returned to Fargo. The male has positively been identified as Dakota Ace and the female is believed to be (but not confirmed) the returning Frieda. The Falcon Cam is on and you can see the happy couple. Also, there is a very nice gallery of pictures. Come FLY WITH ME

Monday, March 29, 2004
Getting ready for the big Easter celebration? Got to have some jokes in your back pocket! Here's a ton of riddles the well equipped table-meister needs. Easter Jokes
Friday, March 26, 2004
Thursday, March 25, 2004

Wednesday, March 24, 2004 Happy Birthday-Bruce Gjovig!
Think those pictures that you get emailed to you are real? Think again! So many are fakes, and with today's modern editing equipment, you going to see lots more. Here's some of the best! NO WAY THAT'S A FAKE FOR SURE
Tuesday, March 23, 2004 Fabian's Birthday!
How many times have you been driving along, it's a nice day and then IT HAPPENS. A car passes you and it's got one of those bumper stickers on it. You squint, you try to focus, you even speed up just a bit to keep it in your sight, and then you realize it's one of the funniest little tomes you have read. Well...here's a whole list of bumper funnies! DumbBumpers.com
onday, March 22, 2004 Kim Holmes, Sanders1907, Birthday
I don't know about you, but there was a time when I thought I could stop caring about the quality of my prose. That it was somehow quaint and acceptable to type notes/messages/info just the way I speak. HOWEVER with so much communication now being done from the mind to the fingers to the keyboard to the screen to the eyes to the mind, well, it's time to get back to correct phrasage, punctuation and spelling. Here's a GREAT primer on accurate writing. If you read through it you'll see that we ALL have a lot of improving to do! Style-guide

Friday, March 19, 2004 Attend the FISH FRY of your choice tonight.
I'ts NOT Bindus Diena day, but Superstitions abound. Where did these come from? Was there a master Superstition book? I got a list of Do's and Don'ts that goes WAY BACK and you better follow these or YOUR FUTURE COULD BE DIM!!! and we don't mean DIM SUM. OldSuperstitions.com
Thursday, March 18, 2004
In ancient Latvia, Bindus Diena was a festival observed on March 18, the day after Kustonu Diena. It was later named Binduli Diena, in honor of St. Benedict[?]. It was associated primarily with insects.
Everybody must be awake before the sunrise. Water must not be poured inside barns. The backs of the cows, and the barns' ceilings, must be washed. Bears were believed to wake up on this day, but then fall back asleep. Bringing firewood in on this day will bring snakes with you. Rushes, twigs and straw will also attract snakes. Potatoes and cabbages can not be planted on this day.
Alternative: Binduli Diena, Benediktu Dienu, Bimbulu Dienu
Wednesday, March 17, 2004
http://people.howstuffworks.com/saint-patrick.htm
Tuesay, March 16, 2004
http://southernfood.about.com/library/rec03/bl30617u.htm
Monday, March 15, 2004 The Ides of March
Tis Spring the Birds are on the Wing, the Bees are Buzzing and I don't feel like Studying! (a poem I wrote in the 5th grade!) Well those birds are on the wing and they're heading this way. Do you have a feeder and fresh water station out? It's Time! There's over 270 type of birds that we should be able to identify here. SO GET AT IT! Here's a great sige about the Pine to Prairie Birding Trail...a great place to see a few more on your list!
MNBirdTrail.com
Friday, March 12, 2004
On our travels this week we saw a pleasing site. Live Rooster Pheasants along the road! Wow, it's been years. Did you know that you can order frozen pheasant, ready for your table? Here's a great place for learning, viewing, ordering, Pheasant of any kind and type. Pheasant.com
Thursday, March 11, 2004
Storming out there? What's that? It's March, there shouldn't be any storms! Do you remember the big ones in the past? Here's a list going back to 1835. I'll bet you'll remember some. Winter_Storms.htm
Wednesday, March 10, 2004
Homeward Bound... But a stop in Pipestone MN. Stop here if you're traveling by!
Tuesday, March 9, 2004
ROAD TRIP ROAD TRIP! Jackson/Spirit Lake
Monday, March 8, 2004
ROAD TRIP ROAD TRIP! Jackson/Spirit Lake
Friday, March 5, 2004 Support your Local Fish Fry!
So just what do you think a share of "presidential" stock should be worth? What makes their stock rise and fall? Are 100 shares of Sharpton really worth 1 share of Kerry? Follow the stocks and their values here. Presidential Market
Thursday, March 4, 2004
They've got schools to learn to be a carpenter, they've got schools to be a computer operator, but there doesn't seem to be any schools for learning to be a criminal. Cause if there were, the folks who made our cool site today sure wouldn't be so embarrassed. Some hints...don't write a "rob the bank" demand note on your own deposit slip! Don't go streaking and leave your car running WITH YOUR CLOTHES IN IT. Chimneys are not the best way to access a building to steal from it! Get more "lessons" at Dumb Crooks.com
Wednesday, March 3, 2004 MY 10th Year Anniversary back here at the Farm
WOW, 10 years ago today I arrived here from Tennessee. Moving van, motorhome, and the last full sized Bronko (a '78) that Ford made. So many things HADN'T happened yet! The World Trade Center was standing, I hadn't met ANY of what were to become my seven foreign exchange students, Lorie, my significant "other" was still quite alive, my God-daughter had just turned 10 years old, both my God-parents were with us. I had only been to Europe one time ('83) and had never been to Israel, Turkey or England. So much has changed, and I have had an entire lifetime of experiences. Regrets? As Sinatra says, "I've had a few." But as the song continues, "But then again, TO FEW TO MENTION!" So based on tradition, this is my "Aluminum or Tin" Anniversary. All presents accepted! Here's the traditional and modern gift lists...take your pick. Anniversary Lists

Tuesday, March 2, 2004
Hey, if March is coming in like a Lion (did you slide home last night?) That means that it's time for garden plans. WHAT? you're not putting in your own private crop? Well it's not to late...sign up for your free seed catalogs TODAY! Burpee.com and Gurneys.com are the place to start, but use your search engines and find ALL SORTS of unique seed houses.
Monday, March 1, 2004 Will it be a Lion or a Lamb!?
Did you see it? Was it to political for you? Are you trying to write the next Lord or the Rings? Get to it! But do you even remember who got best actor last year? Or best film in 1999? Will we remember LOTR in 2007? Check the winners list! PastWwiners Need some advance planning for the next big awards show buffet that you're going to spread? Check out what this food critic suggests! AwardShowPartyTips.com Set your stage for award winning munching!
Friday, January 27, 2004
What will they think of next? How about a tool, a hand tool that you can use to eat all sorts of finger food! No more will your fingers be covered with oil (or butter) and salt. No more will eggroll juice need to be licked from the fingers. YES the Popcorn Fork has arrived. No self respecting family should be without one!! PopcornFork.com
As our listeners know, there were no shows here as John was a guest at the local hospital. Thanks to some good medicine and tender loving care he's all better now!

Thursday, January 19, 2004

Wednesday, January 18, 2004


Tuesday, January 17, 2004
1. Microsoft Works 2. Healthy Tan 3. Jumbo Shrimp 4. Work Party 5. Dodge Ram 6. Virtual Reality 7. Tax Return 8. Working Vacation 9. Head Butt 10. Pretty Ugly 11. Peace Force 12. Tight Slacks 13. Plastic Glasses 14. Taped Live 15. Same Difference 16. Living Dead 17. Silent Scream 18. Personal Computer 19. Alone Together 20. Government Organization NOT ENOUGH OXYMORON FOR YOU? Here's More! OxymoronList.com
Monday, January 16, 2004
Have you heard about a BLOG? A blog is basically a journal that is available on the web. The activity of updating a blog is "blogging" and someone who keeps a blog is a "blogger." Blogs are typically updated daily using software that allows people with little or no technical background to update and maintain the blog. Postings on a blog are almost always arranged in cronological order with the most recent additions featured most prominantly. AND there's some REAL UNUSUAL BLOGS on the net. This is one of the more interesting ones I've found. This guy takes a picture of all his Pasta Meals! Which coming from Rome, are almost EVERY DAY. Check out the entire set! Stefo.net How about someone who takes a picture of himself every morning. Here's EVERY DAY since 1998! It's the DAILY PHOTO Project
Friday THE 13TH, 2004 I'm NOT SUPERSTITIOUS.
But it's kind of interesting that Barbie and Ken breakup JUST BEFORE VALENTINES DAY! I'm thinking one of them is crying today. But NOT Mattel...3.2 BILLION last year alone! Visit the History of Barbie and friends here! OH KEN, I LOVE YOU JUST NOT IN THAT WAY
Thursday, February 12, 2004
As promised here are some riddles you'll have to think about....answers on the bottom.
Not enough for you? Plan for some sleepless nights if you CLICK HERE
A man had to go to an important meeting and he had to ride his horse to get there. He left on Friday afternoon and came back three days later on Friday. How is that possible?

What is lighter than a feather, can be seen by the naked eye, and if you put it into a barrel it will make it lighter?
What walks on four legs at the beginning then walks on two legs in the middle then walks on three legs in the end?
As I was going to St. Ives I met a man with seven wives, each wife had seven sacks, each sack had seven cats, each cat had seven kittens. How many things were going to St. Ives?
The man who invented it doesn't want it, The man who bought it doesn't need it, The man who needs it doesn't know it. What is it?
There was a legend that there existed two tribes that looked exactly alike, lived in two different places and one tribe told the truth and one told lies. The tribe that told the truth had a great treasure to anyone who would or could drop by... One day a hiker was looking for the famous tribes and came across a fork in the road. Out appeared two people from the two different tribes on each side. With only asking the same one question to each person (knowing that one lies and one tells the truth) he found the right tribe and found the treasure. What question did he ask?
A father and son were in a car accident. An ambulance took the father to a hospital 4 miles away and the son was taken to a different hospital which was fifty miles from the accident. When the son was taken into surgery the surgeon said "I can't operate on this patient because he is my son" How can this be?
answers..................................
His horse's name is Friday ** a hole** man: 4 legs-baby crawling, 2 legs-standing up, 3 legs-old man with walking stick** one ('As I was going to St. Ives')** a coffin **Can you take me to your village? **tt is his mother
Wednesday, February 11, 2004

Here is the Recipe for last Saturday night's Dinner
Classic Tuscan Roasted Leg of Lamb

As promised, this was our dinner.
Ingredients Serves 6 or so

5-6 lb leg of lamb, trimmed, boned and tied (Have butcher trim excess fat from the lamb and tie into roast.)
4-6 whole cloves of garlic, peeled (I used about 1/4 of one of those little jars of chopped garlic)
1 tsp. coarsely chopped fresh rosemary (or more)
1 tsp. coarsely chopped fresh sage
2 Tbsp. Dijon mustard
1 Tbsp. olive oil
1 tsp salt
1 tsp black peppercorn, cracked
1 onion, skinned and halved
2 stalks celery cut into 2 inch lengths
2 medium carrots
Recipe

Preheat oven to 450°F Cut 1 inch slits in the lamb and stud with garlic. In a small bowl, mix herbs, mustard, oil and seasonings into a paste. Coat the lamb evenly with the mixture, using a rubber spatula. Place lamb in large roasting pan. Place onion, celery and carrots around the lamb. Roast lamb 60-70 minutes for rare lamb (longer if you prefer well done). Remove from the oven, set vegetable aside and let stand 15 minutes before slicing. (I like 1/2 inch slices of lamb!) Spoon juice from the pan over the lamb before serving. Serve on a large platter surrounded by roasted vegetables of your choice. (We had it with Roasted Potatoes and Pea Pods and it was GRAND!)
Tuesday, Feb. 10, Up and alive at the Holiday Inn Express near the Mega-Mall in Bloomington. Those cinnamon buns that they advertise just aren't that great, but otherwise the hotel is a good value. Driving up I94 to I29 in Fargo, then north to Grand Forks. We hit a Snow & Blow about Hillsboro, but just ducked in behind a semi and made it home in Jig Time!
Monday, Feb. 9, The last "warm" morning. Lebanon Indiana. Holiday Inn Express, new/super clean/great staff! Boys had been up till 2:30 am swimming/lifting weights and hanging in the hot tub, so they weren't to anxious to get up and hit the road....OH WELL!! We're on our way! Lunch in Chicago with a good friend named Judy. She lives walking distance from Wriggly Stadium! Went to Ann Sather's AWESOME! Then out of Chicago as rush hour started. Wanted to Stop at my FAVORITE Chinese restaurant in Eau Claire, Yew Chin's but Alas, it was Monday evening and it was closed ;-)
Sunday, Feb. 8, Quiet breakfast, Lunch at Macaroni Grill, got to be one of my favorite Italian eateries! Then departing for home about 5pm. Made it as far as Lebanon Indiana.
Saturday, Feb. 7, Quiet day at B&B. Hit a bunch of antique stores in afternoon, looking for TEA WARMERS and CLEAR GLASS TEAPOTS. Could NOT find any, guess what I'm collecting is REALLY RARE! Tuscan Lamb for dinner. An OVER THE TOP GREAT MEAL!
Friday, Feb, 6, Knoxville, University Tour and also Maryville Tour, weather cleared, Fabian "for sure" wants bigger school VS. small school. Back to B&B in Franklin about 7pm.
Thursday, Feb. 5, 9PM off to Knoxville and the University of Tennessee. Arrived about 2 in the AM. BAD rain storm the entire way. Semi's kicking up lots of water. Drove 55 MPH rather than 70. Country Suites hotel. New...clean....great room, crisp sheets!
Wednesday Feb 4, We arrived at Franklin Tennessee just in time for Lunch! Bed & Breakfast was even more awesome with a completely remodeled (in the traditional style) dining room.
Tuesday Feb. 3, After morning radio shows we drove all day. Finally near Kansas City the snow cover lightened and the temperature rose a bit. So many cars in the ditch!
Monday Feb. 2, Afternoon, we left for Tennessee! We went down I 29 and got as far as Brookings South Dakota. I, Fabian and Simon, both from Germany, both on their first cross America trip.
Monday, February 2, 2004 Slight delay but TENNESSEE is in front of us!
As promised, here are 2 cool sites.. First, all the ads that makes the Super Bowl more than "just a football game!" All the ads on video AND just a little bit more about groundhogs day...cause after all, it is Feb the duce. It was all Germany's idea
Friday, January 28, 2004 3 Days till we broadcast from Tennessee!
Thursday, January 29, 2004 4 Days till we broadcast from Tennessee!
Wednesday, January 28, 2004 5 Days till we broadcast from Tennessee!
We think of this cold as being ubiquitous, but really, our cold snap and record tying cold reading are just a blip on the world weather map. Check this site out, satellite pictures of other places, with 1,000 mile dust storms, and other incredible views! Visible Earth
What to be part of the National Cyber Alert System? Here's the Place
Tuesday, January 27, 2004 6 Days till we broadcast from Tennessee!
What ever you want to call them, SUN DOGS, MOCK SUNS, those funny things in the sky, now's the time of year to experience them! Sort of like a reverse rainbow, they circle the sun and forebode even colder weather. Watch for them in the coming days, usually late afternoon. Or watch for them here. SUN DOGS PLUS and here SUN DOGS EVEN MORE PLUS
Monday, January 26, 2004 7 Days till we broadcast from Tennessee!
OH Sure you hear about these big fancy ski resorts, with hot and cold running ski wax, but really how often do we just go down the road a piece. The heck with those fancy Colorado skiing reports, here's where the action really is!! Minnesota Nord Dakota and even for the Iowegians
Friday, January 23, 2004 10 Days till we broadcast from Tennessee!
Can it get any colder? The weather man/men/women say YES and it's heading out way! So how about some COOL Jokes to warm you up. Most are new-to me anyway! Now that's FUNNY
Thursday, January 22, 2004 11 Days till we broadcast from Tennessee!
Let them sing it for you Ever feel like you could express yourself better in a song? Well here's a little something for those of you who see life as one big, soppy musical. Swedish group Sveriges Radio have devised a site where you can type down "sung" messages and email them to your friends.
Creator Erik Bünger has compiled a database of cut out words from Top 40 chart hits. For example, when you type "I", the familiar vocals of Chris Issac from his tune "Wicked Game" can be heard. The same for Kylie Minogue from "Can't get you out of my head" for the word "every". Write your own lyrics HERE
Wednesday, January 21, 2004 12 Days till we broadcast from Tennessee!
Here and HERE only we have exclusive new pictures from the unit that's on MARS! Check out these shots!
This first shot shows a panorama of the Martian landscape.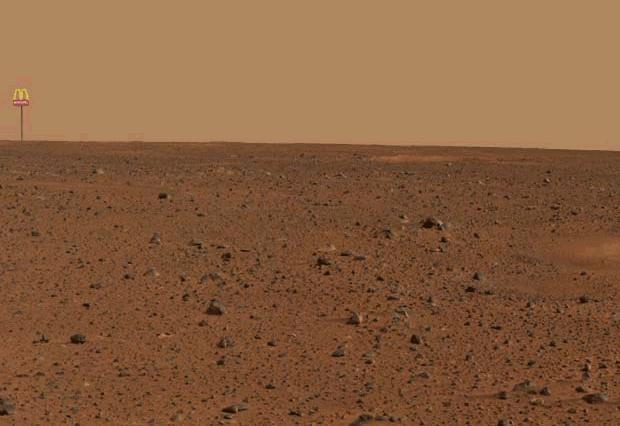 And yes sadly, environmental pollution - or at least littering happens even on Mars. Here's a casually tossed away wrapper from one of their popular candy bars. We have figured out that the spoken language on Mars is much like German, and so this logo translates to "earth" - get it? An "Earth" Bar!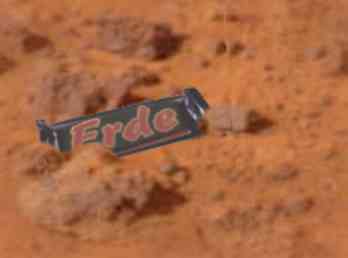 This the last photo before we lost contact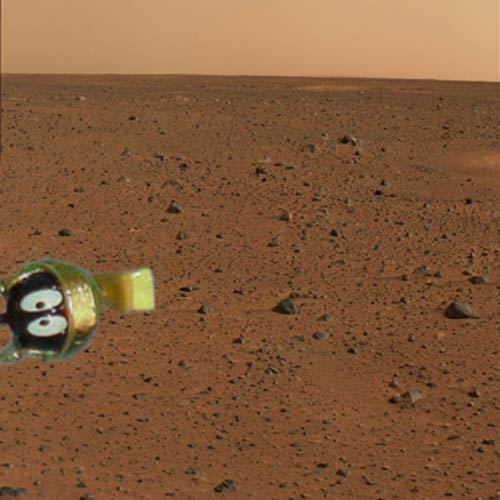 Tuesday, January 20, 2004 13 Days till we broadcast from Tennessee!
It's been talked about for a LONG LONG Time, and TODAY (Not Tomorrow!) is the day that we move to adulthood! Yes it's the day for the long expected Colon test. Remember, IF I CAN DO IT, YOU CAN DO IT! As our oft time guest Dr. Eric says, "It's one of the best screening tools we have today, and it can SAVE YOUR LIFE!" Ask your Dr. about it! Back tomorrow.
Monday, January 19, 2004 14 Days till we broadcast from Tennessee!
As promised and as part of our announcement that "We're Goin' to Nashville!" Here's a slug of country song titles that should have been hits!! How Can I Miss You if You Won't Go Away, is only one of them!
TGIFriday January 16, 2004 17 Days till we broadcast from Tennessee!
VISIT PENNSYLVANIA...BRING CASH!
PENNSYLVANIA...RIGHT NEXT DOOR TO OHIO!
PENNSYLVANIA...JUST LIKE CALIFORNIA BUT WITHOUT THE FUN STUFF AND NICE WEATHER.
PENNSYLVANIA...WHERE PEOPLE LIVING IN FLORIDA GREW UP.
COME TO PENNSYLVANIA...SURE NO GAMBLING, BUT WE GOT PERIGEES.
COME TO PENNSYLVANIA...CUZ WE NEED THE MONEY.
PENNSYLVANIA...SOMETIMES IT'S OK...SOMETIMES...NOT OFTEN.
WHERE GAMBLING IS STILL ILLEGAL...PENNSYLVANIA.
PENNSYLVANIA...C'MON, TAKE A CHANCE!
PENNSYLVANIA...NO LEGAL GAMBLING!...ILLEGAL, THAT'S ANOTHER THING.
PENNSYLVANIA...CUZ YOU DON'T REALLY WANT TO VACATION SOME PLACE NICE.
PENNSYLVANIA...LAND OF BIG TAXES AND BIGGER WOMEN!
PENNSYLVANIA...EVERYBODY'S LEAVING SO THERE'S ROOM FOR YOU!
PENNSYLVANIA...NOT AS BAD AS YOU THINK. CLOSE THOUGH...
WHY PENNSYLVANIA? BECAUSE...UMMM...IT'S NOT FRANCE!
STEEL MILLS ARE GONE SO IT'S OK TO BREATH...SORTA. PENNSYLVANIA.
PENNSYLVANIA...WHERE I NICE VACATION IS ONLY A PLANE TRIP AWAY!
PENNSYLVANIA...GET OVER IT!
PENNSYLVANIA...SOMETIMES THERE'S SUN.
PENNSYLVANIA...WE'RE OK'D BY THE FDA!
PENNSYLVANIA...EASIER TO SPELL THAN MASSACHUSETTS!
WE'VE GOT A PLACE FOR YOU...PENNSYLVANIA!
PENNSYLVANIA...NO SHARK ATTACKS!
PENNSYLVANIA...MOST OF OUR ROADS ARE PAVED.
PENNSYLVANIA...IT'S NOT A GAMBLE.
INTERCOURSE, BLUE BALL, BIRD-IN-HAND, NANTY GLO...ALL IN PENNSYLVANIA!
PENNSYLVANIA...OUR 2 BIGGEST CITIES START WITH "P".
PENNSYLVANIA...NO GAMBLING SO YOU CAN'T LOSE!
DO IT IN PENNSYLVANIA...OR DON'T.
PENNSYLVANIA...WE'RE CHEAP!
AND ON THE 8TH DAY, GOD MADE PENNSYLVANIA. MISTAKES HAPPENS.
PENNSYLVANIA...WE'RE OK, YOU'RE OK.
WHY PENNSYLVANIA? BECAUSE IT HAPPENS!
PENNSYLVANIA...NOW YOU DON'T FEEL SO BAD, DO YOU?
Need more state's Slogans? Check this: You can't say that about our state! Or This list of Minnesota Slogans: Minnesota: Land of 10,000 Petersons

Thursday January 15, 2004
As part of our regular business, we are looking at websites every day. Today's Cool Site-Pick of the Day, is chosen, not because of what it's trying to sell you, but because, if you have ANY interest in quality web sites, you must peruse this one! budlight.com demonstrates that old "saw" of truth that says..."You can't be too rich, You can't be to think, and YOU CAN'T SPEND TOO MUCH MONEY ON YOUR WEB SITE! Just look what a combination of artistry, commitment to a great web site, LOTS OF MONEY, and great financial backing can create! Perhaps the finest website I've seen. (NOTE: John Reitmeier's Cool Site-Pick of the Day does NOT endorse this or any website visited. Viewers need to make their own decisions about the suitability of the products or services offered. We suggest sites as a point of information.) Today's website WILL TAKE OVER YOUR COMPUTER!
Wednesday January 14, 2004 My father's 89th Birthday! Happy Birthday Dad!
How many Simpson's Episodes have you seen? So many of them have Bart writing things on the blackboard, but it goes by so fast that it doesn't sink in! Well, here they are. Some are over the top funny! Bart's Remarks
Tuesday Jan 13, 2004
Here's some AWESOME pictures from around the world. Many places I've been to and seeing these pictures brings back such great memories, and the places I haven't been to make me desirous to make a trip to see them! Terra Galleria

Monday Jan 12, 2004
The world is a changing place....what once took a million dollar editing machine can now be done on a 2,000 dollar computer. So a group called moveon.org decided to run a contest called "Bush in 30 Seconds" for young people to create a "lets get down on the President" video. Here's the 14 finalists. I don't particularly like this organization or what they're trying to do, but the commercials are very creative and worth watching. bushin30seconds.org
Friday Jan 9, 2004
HAPPY FRIDAY some smile makers for you!
Pheasant Hunting
Tom and Fred were coming out of a corn field on the opening day of Minnesota's pheasant season. Passing in front of them on the road was a hearse and long procession of cars, escorted by a police car. Tom stopped, called his dog, took his cap off, and stood quietly at the side of the road with his dog while the funeral procession passed by. Once it had passed, Tom and his dog rejoined Fred. "Wow" Fred exclaimed, "You sure do show a lot of respect for the dead!" "Jane was a hell of a wife." Tom replied, "I'm going to miss her."
Ice Fishing In Minnesota
A cocky young boy was ice fishing one Minnesota winter. Despite his patience, he couldn't get even one nibble. Compounding his frustration was an old man, not twenty feet from him, who caught much more than his share throughout the day. "Hey old man", yelled the boy. "How'd you catch so many fish?" "MM-mmmuh-MMMh-mmhh", replied the man. "What did you say?" "MM-mmmuh-MMMh-mmhh", replied the man. "What?" Ptwt!!! spat the man. "You got to keep your worms warm, boy!!!"
Floridians
There were two old boys from Florida who just love to fish, and they wanted to try some ice fishing. They'd heard about it up in Minnesota, and they took off up there. The lake was frozen nicely. They stopped just before they got to the lake at a little bait shop and got all their tackle. One of them said, "We're going to need an ice pick." So they got that, and they took off. In about two hours, one of them was back at the shop and said, "We're going to need another dozen ice picks." Well, the fellow in the shop wanted to ask some questions, but he didn't. He sold him the picks, and the old boy left. In about an hour, he was back. Said, "We're going to need all the ice picks you've got." The bait shop man couldn't stand it any longer. "By the way," he asked, "how are you fellows doing?" "Not very well at all," he said. "We don't even have the boat in the water yet."
Lena, Ole and Lars go Deer Hunting
No collection of jokes about Minnesota would be complete without at least one or two about those favorite (Norwegian) son's and daughter of our state.... Lena, Ole, and Lars went deer hunting on the first day of Minnesota's Deer Opener. They hunted all day, and late in the day, Lars was cold, so he headed back to the truck. While he was waiting, Ole appeared from the edge of the woods, dragging an enormous 8point buck. Lars helped Ole load the buck on the truck, then took some pictures. It was only then that he thought of Lena. "By the vay, vhere is Lena?" Lars asked. "Oh - she is in da' voods 'bout 2 miles back vit a broken leg" Ole replied. "You left Lena in da' voods?!" Lars yelled. "It vas a hard choice" Ole nodded, "but no one is going to steal Lena..."
The Loon
Ole was out on the lake one day in the fall. A loon flew by, and he shot it. Then he took it home, cleaned it, cooked and ate it. Well, as these things go, the local game warden heard about the offense, and came looking for Ole. When questioned by the warden, Ole admitted he had done the deed. Ole was subsequently ticketed, taken to court, and fined by the local judge. After the court appearance, the warden was curious, and asked Ole about it. "Say Ole, what did that loon taste like"? Ole replied - "'Vell, it vas pretty good - Kind of like a cross b'tween Bald Eagle and Trumpeter Svan..."
Diarrhea
Minnesota's fishing opener was fast approaching. Ole called Sven to to see if he was interested in making the trip "Oop Nort'" to fish for the big ones. Ole, knowing that Sven enjoyed a brew now and then, informed Sven that he had a couple cases of beer that he was bringing. Sven said "I vould love to go fishing Ole, but I have a case of diarrhea." To which Ole replied "Vell, bring it along, ve'll drink dat too!"
The Blonde
This beautiful blonde decides she's gonna surprise her boyfriend by learning how to ice fish. So she gets her gear, ventures out, finds a spot on the ice, sets up her umbrella, table, cappuccino... She picked up her auger, and began to bore a hole in the ice. A voice from on high roars: "There are no walleyes under that ice!" So she looks over her shoulder, then picks up her things, find another spot on the ice, sets up her umbrella, sips on her cappuccino... She again begins to bore herself a hole in the ice. Again, the voice from on high roars: "There are no walleyes under that ice!" Again, she looks over her shoulder, picks up her things, finds new spot... Just as she begins to bore a hole in the ice, the voice again says: "There are no walleyes under that ice!" So she turns, looks around, and nervously asks, "Are you God?" To which the voice answered: "No, I own the ice rink!" Which caused all the Norwegian Perch fishermen around the end zones to laugh out loud!
The Sioux and Bison
One season, the Bison and Sioux ended the year tied. Every tiebreaker the conference had was used to break the tie, but the tie remained. Which team would be the Champion?
The professional NFL office was consulted. They said to figure it out locally, something like a coin toss would be fine.
Well, North Dakota being the fishing states it is, someone got the idea of a 3-day fishing contest. Both teams agreed. And they took them all to Devils Lake.
On the first day, the Sioux caught 100 fish, while the Bison caught none. On the second day, the Sioux again caught fish, 200 this time. Once again, the Bison were skunked.
Things were looking bad for the Bison - their coach was desperate. He called one of his players aside, and dressed him in green and white. "Go over to the Sioux camp and find out what they're doing!" he was told.
The Bison player returned a couple of hours later. "I know what they're doing Coach!" he reported excitedly. "Well what is it? asked the Coach.
"They're drilling holes thru the ice...." came the reply.
Jake
The was a duck hunter who was tired of hunting with out a dog. He did research and read about the various breeds, then began to visit breeders and their kennels. One breeder particularly impressed the hunter. His dogs were well behaved, obeyed well, looked healthy. The breeder was very emphatic about his dogs, especially with their training for hunting waterfowl. He even offered to show the hunter his dog under real field conditions. The breeder and hunter took Jake, the dog, to a nearby wetland. The breeder stopped his truck by the road, let Jake out, then told the hunter "Now we wait". Jake took off toward the wetland. After about 15 minutes, Jake returned. He sat down, raised his right foot, and barked three times. "What does that mean?" the hunter asked. "Three puddle ducks" the breeder replied. "I don't believe it." the hunter responded. "Ok - we'll check" retorted the breeder, and he started walking toward the water. As they approached the water, three mallards got up. "Wow - that's fantastic" said the hunter, "I'll take him". So the hunter got out his checkbook, and Jake became a member of the hunters household. Duck season opened. The hunter and Jake approached the first wetland. Jake was sent in, and soon returned. He sat down, raised his right foot, and barked once. The hunter approached the water, and soon took a fat mallard. So went the season. One day, Jake raised his left foot, and barked 4 times. Puzzled, the hunter approached the pond, and jumped two pair of divers. "Ah-ha" the hunter murmured. Soon it was the last day of duck season. The hunter and Jake went hunting. Jake was sent in, as the usual practice. Soon he returned, barking as fast as he could, he didn't sit, instead, he grabbed the hunters leg with his paws and legs, and began to hump against the hunters leg. The hunter was shocked, he pushed Jake away. "Bad dog!" he shouted. But Jake wasn't done. He next grabbed a stick, and started shaking it from side to side. The hunter had enough. He pointed his shotgun at Jake and shot him! Then he drove to the to the kennel, furious with the behavior of Jake. He demanded his money back. Once the hunter calmed down enough to tell the whole story, the breeder just shook his head in disgust. "You don't understand, do you?" he asked. "What's to understand - the dog went crazy." the hunter replied. "Don't you see?" the breeder asked. "Jake was telling you that there were more ducks on that pond than you could shake a stick at."
Beer
Ole and Sven were having a good time while fishing on a small lake in northern Minnesota. They were drinking beer and feeling no pain when Ole hooked a big one. His prize catch was no fish though; it was a lamp and when he rubbed it a magic Genie popped out. The Genie was grateful to be set free and to reward his rescuers, he granted them one wish. Without hesitation, Sven blurted out that he wanted the entire lake to turn into beer. The Genie nodded his head and the lake was instantly transformed into a sea of beer. Ole was furious - he turned to Sven and yelled "You idiot, vhy did you have the Genie turn the lake into beer?". Sven was surprised Ole's anger and asked "Vhat is wrong with a lake full of beer? Ve'll never run out of beer while were fishing again." Ole replied, "Yes the beer is great, but now ve'll have to pee in the boat!"
The New Truck
Sven got a new truck ya know. So he calls up Ole and says, "Ole, I got me a new truck! Do you vant to go ice fishin' vith me?" "Sure!" says Ole. So Ole vent vith Sven (Lena come along too cuz she vas doin' nuttin' anyvay). Vell, Sven and Lena sat in the front seat and Ole sat in the bed of the truck. Dey vere on de ice ven all of de sudden de truck vent right through the ice! Now even though Sven and Lena are pretty big people, dey managed to get out of the truck, up to the surface, and back on top of the ice. They vere getting pretty worried about not seeing Ole when he finally popped up. After helping Ole get back on the ice, Sven says, "Ole vat took you so long?" "Vell," says Ole, It took me a vhile to figure out how to open de tail gate."
Calling 911
Lars and Torvald are out in the big voods in northern Minnesota when Torvald falls to the ground. He doesn't seem to be breathing, and his eyes are rolled back in his head. Lucky for him, Lars vas dere, and whipped out his new fangled cell phone, and calls 911. He gasps to the operator, "My friend is dead! Vhat can I do?" The operator, in a calm and soothing voice says, "Just take it easy. I can help. First, lets make sure he's dead......" There is a silence, then a shot is heard.
Thursday Jan 8, 2004
Do you know what SPEBSQSA stands for? We often joke that it stands for the Society to PREVENT Barbershop singing...but that's not really what it means. It's the Society to Promote and Encourage Barbershop Quartet Singing in America! And what a great group it is! I don't care if you're not generally interested in listening to singers...I've never seen anyone who was dragged to a concert who didn't end up enjoying what they heard and saw! These guys (and Gals known as Sweet Adelines) really enjoy what they do, and it it contagious! Here's a monster list of songs that have been modified/adapted/created especially to fit the rules of Barbershop singing. I'll bet there's some songs in here that you know! I'm Singing in the Rain...and the Shower...and the Street...and well just about everywhere!
Wednesday Jan 7, 2004
Gee Honey, what's there to do this winter? WOW I don't know, we're all mall-ed out and I'm tired of flying to the Bahamas! I know...let's see what there is to do around Minnesota... What's going on this winter in the Border Waters Canoe Area... Well as far as I know, they're all shut down for the winter! WRONG>>>>>Check out all that's going on in the BWCA the BWCA where BRRRRRRRR takes on a whole new meaning
Tuesday Jan 6, 2004
Oh the weather outside is Frightful, but inside it's SO DELIGHTFUL, specially if you're full of warm hot _____________(fill in the blank!) We've got adult warm-ups, and great kiddie things to welcome those cold visitors. For the youngun's For the big kids!
Monday Jan 5, 2004
Just how cold can it get on this Blue Marble? Or how Hot?? Well here's the extremes that have been recorded around the globe. Severe Weather Extremes
It was the month after Christmas and all through the house
nothing would fit me, not even a blouse.
The cookies I'd nibbled, the eggnog I'd taste
at the holiday parties had gone to my waist.
When I got on the scales there arose such a number!
When I walked to the store (less a walk than a lumber).
I'd remember the marvelous meals I'd prepared;
The gravies and sauces and beef-nicely rared,
the wine and the rum balls, the bread and the cheese
and the way I'd never said, "No Thank you, please."
As I dressed myself in my husband's old shirt
and prepared once again to do battle with dirt.
I said to myself, as only I can "you can't spend a winter disguised as a man!"
So---away with the last of the sour cream dip,
get rid of the fruit cake, every cracker and chip
every last bit of food that I like must be banished
till all the additional ounces have vanished.
I won't have a cookie----not even a lick.
I'll want only to chew on a long celery stick.
I won't have hot biscuits, or corn bread or pie,
I'll munch on a carrot and quietly cry.
I'm hungry, I'm lonesome and life is a bore,
but isn't that what January is for?
Unable to giggle, no longer a riot.
Happy New Year to all and to all a good diet!
Friday Jan 2, 2004
New Years Resolutions you Can Keep
1. Gain weight. At least 30 pounds.
2. Stop exercising. Waste of time.
3. Read less. Makes you think.
4. Watch more TV. I've been missing some good stuff.
5. Procrastinate more. Starting tomorrow.
6. Don't date any of the Baywatch cast.
7. Spend more time at work, surfing with the T1.
8. Take a vacation to someplace important: like, to see the largest ball of twine.
9. Don't jump off a cliff just because everyone else did.
10. Stop bringing lunch from home: I should eat out more.
11. Don't have eight children at once.
12. Get in a whole NEW rut!
13. Start being superstitious.
14. Personal goal: bring back disco.
15. Don't wrestle with Jesse Ventura.
16. Don't bet against the Minnesota Vikings.
17. Buy an '83 Eldorado and invest in a really loud stereo system.
18. Get the windows tinted. Buy some fur for the dash.
19. Speak in a monotone voice and only use monosyllabic words.
20. Only wear jeans that are 2 sizes too small and use a chain or rope for a belt.
21. Spend my summer vacation in Cyberspace.
22. Don't eat cloned meat.
23. Create loose ends.
24. Get more toys.
25. Get further in debt.
26. Don't believe politicians.
27. Break at least one traffic law.
28. Don't drive a motorized vehicle across thin ice.
29. Avoid transmission of inter-species diseases.
30. Avoid airplanes that spontaneously drop 1000 feet.
31. Stay off the MIR space station.
32. Don't worry that the Y2K bug will cause the end of the world.
33. Get wired with high-speed net connections at home.
34. Don't swim with piranhas or sharks.
35. Associate with even worse business clients.
36. Spread out priorities beyond ability to keep track of them.
37. Wait around for opportunity.
38. Focus on the faults of others.
39. Mope about faults.
40. Never make New Year's resolutions again.

- submitted by Jokes4U.
Thursday, January 1, 2004 Hello, let this be a great year too!

"A little review! WOW What a great year it's been! I've been 4 (count em, four) times to Europe this year. Did you listen along? Each time was a different trip and so much fun! I learned things about countries and towns and people and food and drink and social customs in so many places. There were four fishing trips. The Governors trip was kind of a bust, but "WOW Awards" go to winning the Lake Superior Media Fishing Challenge, and big Kudos to the folks at Sportsman's Lodge in Baudette for guiding me to the biggest walleyes of my life! I made a lot of new friends this year, re-activated lots of past relationships and I think I had some personal growth-along with loosing 28 pounds. (does that sound like a contradiction? ;-) and for the last and final time I've opened my home to a Foreign Exchange Student. Fabian is a great addition to my little family and we thank God for that and all the blessing that came my way in the past year! I hope your coming year and years are full of Joy and Happiness. Please join me in Praying for PEACE...in our homes, communities, country and the world. john"
The 2004 list of words that should be banished for ``misuse, overuse and general uselessness,'' according to Lake Superior State University:
-Metrosexual: An urban male who pays a great deal of attention to appearance.
-X: As in ``X-Files,'' Xtreme, Windows XP and X-Box.
-Punked: To dupe, popularized by the MTV show ``Punk'd.''
-Place Stamp Here: Printed on return envelopes.
-Companion animals: Also known as pets.
-Bling or Bling-Bling: Flashy jewelry.
-LOL: E-mail speak for ``laugh out loud.''
-Embedded Journalist.
-Smoking Gun.
-Shock and Awe.
-Captured Alive.
-Shots Rang Out.
-Ripped From the Headlines.
-Sweat Like a Pig: The problem is pigs don't sweat.
-In Harm's Way.
-Hand-Crafted Latte.
-Sanitary Landfill: Also known as a dump.
Get the rest of the list and explanations here:
LSSU.edu
---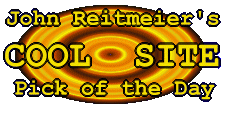 ---
© 1999 copyright John Reitmeier / theminute.com - all rights reserved.