June 2002
Friday June 28, 2002 288 Days After


We're gonna win Twins, We're gonna score. We're gonna win Twins watch that baseball soar. Crank out a homerun, shout a Hip Hooray! Here's for the Minnesota Twins today! Here's the official site!
Thursday June 27, 2002 287 Days After


Don't travel too far! Duluth has LOTS of things to do and a great web site to find out about it! Visit Duluth!
Wednesday June 26, 2002 286 Days After


We all know that Martha Stewart has been having her share of problems. Stock down over 1/4 billion dollars (just her share). Bummer, and now a wonderful parody site of everything Martha. Here's the Spoof (but very real) recipes for making Jell-O into more than a sick room treat! RUM in a WIGGLER??
Tuesday June 25, 2002 285 Days After


I ask and our listeners respond. Here's Flood Pics from The north. Anyone got a link for the south? Take me to the water
Monday June 24, 2002 284 Days After


Time for some fun on the net. The Star Tribune in MPLS has put together 118 funny video clips. See a boat that becomes a car, a wedding on a roller coaster, it's all fun/crazy/bizarre. CHECK IT OUT
Friday June 21, 2002 281 Days After


Things are quieting down a bit in N. Minnesota, and now the laborious clean up/throw away begins. Here's Roseau's historical web page. Even a picture from the flood of 1913. How highs the water MaMa
Thursday June 20, 2002 280 Days After


Have you ever wondered what your favorite entertainment group "DEMANDS" when they come into town on tour? Here's all the weirdness that gets written into the contracts. Things like "no smells anywhere near Mr. Pavarotti!" Sure we can control that. You can't smell of sweat, but you can't use deodorant. HMMM I SAID NO RED M&M's!!!
Wednesday June 19, 2002 279 Days After


Hey it's wet out there and you can't work in the garden. SO how about some fun on the net. Here's a fun site that collects the weird and unusual auctions that are on ebay and other sites. Who would buy that?
Tuesday June 18, 2002 278 Days After


Does anybody really know what time it is? I know you care. Here's a website of dozens of clocks that you can download and have on your desktop or your screen saver. And it's all free!! TICK TOCK TICK TOCK
Monday June 17, 2002 277 Days After


We need a little levity these days, as folks are fighting receding flood waters up north, and farmers are looking at less than average crops. How about a few riddles? Well Riddle Me This! What has is how they always start.
Friday June 14, 2002 274 Days After


He don't get any respect, but he sure has a great website! Rodney Dangerfield keeps coming up with the incredibly funny lines. Here's his official site! I want to tell ya...
No Pick of the Day for Thursday, station had technical problems.
Wednesday June 12, 2002 272 Days After


Are you tired of going to a web site, only to have 3 or 4 or 5 more web pages of advertising open up? Well, now with a free and easy little browser add-on you can stop those UGLY and frustrating pop ups! Here's the program. Download it, install it, and then you have to actually run the program to have it operating! Take me to POW
Tuesday June 11, 2002 271 Days After


If you have an IBM style computer, you have a "start up" place in your programs list. This is where programs are parked and auto start each time you reboot. Some are needed, some are optional, some are just junk and really slow down your computer, using up valuable resources. Here's the mother list of what might be in your start bar. Delete as you feel you can. Get rid of that, Get rid of that, save that.
Monday June 10 John was sick, but feeling better now.
Friday June 7, 2002 267 Days After


Just too much fishing fun. Here's a great "learn more about walleyes" page. Walleye Central
Thursday June 6, 2002 266 Days After


ROAD TRIP ROAD TRIP...It was a late night drive to Baudette and Lake of the Woods. Out fishing at 8am. Turned out to be one of those very memorable days! Nice temps, brisk yet manageable winds, and the FISH WERE JUMPING IN THE BOAT! Didn't have a digital along, will post the prints when they come back. Here's where we stayed. Nice folks, good hosts, good access. Borview Lodge
Wednesday June 5 , 2002 265 Days After


Summer and thoughts of outside, sports, playtime. But just how smart are you? Here's a page of lots of IQ tests, business tests, personality tests. Do good and celebrate, do bad and find an excuse to GET OUTSIDE! The price of gas should always be lower than your IQ
Tuesday June 4 , 2002 264 Days After


Forget buying expensive CD's, erase from your memory the need for a new lake home, spend your time listening in to private conversations of important people like police, firemen, cabs, trains, planes. The fun never ends! Just get one of those programmable scanners and punch in frequencies from all over the area. Which freqs you ask? Well here's a pretty complete list of frequencies. Visit different local cities to get more to listen to! SCAN SCAN SCAN
Monday June 3 , 2002 263 Days After


Food, a summer fun-time activity! The only thing that's almost as much fun as eating, is finding out lots of trivia about food. Here's a bunch of pages, some true, some silly. I really enjoyed viewing them. Let me know what you think! FOOD GLORIOUS FOOD

May 2002
Thursday May 30, 2002 260 Days After


So you think that there's only one sound that a Bee makes? Or a dog? or goat? or just about any animal. Here's the "international" list of animal "speech!" Screech, Buzz, Roof Roof
Wednesday May 29, 2002 259 Days After


Since this is the Cool Site-Pick of the Day, we decided to go out and find the Coolest website we could find, subject matter aside. Well I think we found one of the best designed, fastest loading, awesome fun site on the net. And it's for a product that you probably know about and purchase. OK Show me COOL
Tuesday May 28, 2002 258 Days After


Begging has sure been refined to an art, but come on...not on the internet...Here's 69 or so begging sites. "Send me a dollar" has risen to new heights! Send me a buck...come on you can afford it!
Monday May 27, 2002 257 Days After


Memorial Day
Hopefully we're talking to a different audience because of it being a holiday. Today's cool site is a piece of software that is a requirement if you're a web surfer. You won't believe what it will probably find on your computer! I have a fast fast computer and it was running sluggishly. Ran Ad-aware and it found 4 programs that were SPY-WARE, reporting back my keystrokes to companies over the internet. I removed them and we're ZIPPIE again! Take me to this wonderful/FREE Software
Friday May 24, 2002

This Candle forever burns on this website in memory of the men and women of our country who served in our Armed Forces.
HAPPY MEMORIAL DAY!
Copy and put this candle on your website!
Thursday May 23, 2002 253 Days After


It's a stay in with a muffin and some hot chocolate and do a little study on the computer day! Today we're going to a non fun, boring, but great information site that will make us all a little smarter on SPAM! No not the sandwich kind...the email kind. Frustrated with what's coming in your email box? Here's a good primer on trying to get some handle on the problem. Take me to the spam info
Wednesday May 22, 2002 252 Days After


Do you ever wonder if all those things you hear about could possible be true? Can humans really "channel" to those gone before? Do Crystal Skulls hold incredible powers? This website helps you decide. I'm a SKEPTIC!!!
Tuesday May 21, 2002 251 Days After


It's the weekend to start making vacation/travel plans for summer. Memorial weekend coming up. Why not stay in the area. There's so much to see, and here's the web pages that will make you informed. ND INFO MN Destinations
Monday May 20, 2002 250 Days After


Lucas Arts...sounds boring, but here's the BIG news! It's the official home page for ALL the Star Wars films, the latest of which I thought was an incredibly great movie...critics be damned, it was just a fun, action movie with a little love story and I LIKED IT! LUKE, I'M GOING TO BE YOUR FATHER, LUKE Also you might check out theforce.net a volunteer run site of Star Wars Greatness!
Friday May 17, 2002 247 Days After


Let's take a trip to the Islands...no not those islands in the middle of Gull Lake, those Hawaiian Islands! But if you can't be there, at least you can find out your Hawaiian name here. (Lots of pop-ups on these pages, just keep closing them) My name is Keoni, Ione
Thursday May 16, 2002 246 Days After


They were the greatest thing for families! And second hand they provided great "tanks" for young people to haul sound equipment, surf boards, and anything BIG! But we've mostly said goodbye to the Station Wagon. Here's a trip down memory lane. Jump in my WOODY
Wednesday May 15, 2002 245 Days After


Taking a drive south? Fargo interstate's are a MESS. Going west on 94? Jump off early (at the Kelly Inn) and just drive west till you hit the interstate at the fairgrounds. If you're going south, be patient.
Tuesday May 14, 2002 244 Days After


Travel is on the horizon for you? How about those airline meals. Most of us have no choice of airlines when we fly, but if you do, or if you want to see what they serve on those "other" airlines, here's a website with over 90 meal photos taken around the world! Why not add your pics. Ahh...no thanks, we ate on the boat!

Monday May 13, 2002 243 Days After


It was Friday morning. We got a call from the post office in Fisher. They had a "package" for us. Normally that's not a big deal, but they wanted us to come right over to get it ??? When we got there, this is what we received.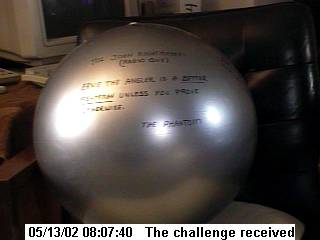 The aluminum ball is just under 2 feet in diameter. This is the text... "To: John Rightmeyer (sic): (radio guy)
Ernie the angler is a BETTER FISHERMAN unless you prove otherwise. (signed) THE PHANTOM"
There are other markings on the ball which we have kept secret, except for the special investigator that has been called in to determine the level of challenge. Message to "the phantom" Identify yourself, don't hide behind cheap plastic, when can we meet?!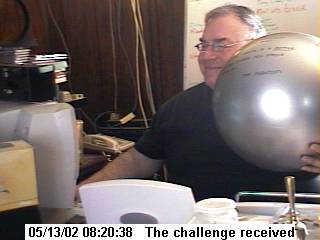 Friday May 10, 2002 240 Days After


It's a crazy Friday, not spring/not winter what is it? Spring Fever can take on so many faces...and you really should be working! But take just a few more minutes to check out this web site of fun, frivolity, and just plain silliness. WORK BABY WORK

Thursday May 9, 2002 239 Days After


What's that yuck outside? The US Gov has changed their weather site and made it very user friendly! Show me the weather
Tuesday May 7, 2002 237 Days After


So here's how it goes...you get your news from the local radio station, but sometimes there's just a need for more information. Here's a list of all the newspapers that are on the net in North Dakota. ND Newsprint And in Minnesota MN Newsprint
Monday May 6, 2002 236 Days After


Basking in the warmth of the spring sun, it's time to look to the outdoors and the joy of Childs games. Remember all those games that you don't need a box of plastic parts to play? Here's the mother list of fun for kids! Oh the Games People play now!
Friday May 3, 2002 233 Days After


Thinking of doing some traveling this summer? How about staying in a Bed & Breakfast. They're ALL OVER NOW! Here's a great collection of B&B's that strive for a little higher standard than usual. All our friends that operate Inns use this as their main internet access. Let me know your experiences! Hey Honey, let's stay in a B&B Tonight
Thursday May 2, 2002 232 Days After


ROAD TRIP! Bismarck, the BIG GREY GOOSE is rejoining it's flock in the capital city and we've ordered a new "studio c" which will be here for next Friday's racing! When we're in Bismarck we stay at the Days Inn at the 2nd exit. It's the most reasonable, full breakfast included place we've ever found!
Wednesday May 1, 2002 231 Days After

MAY DAY!
Is this weather caused by warming/cooling of the oceans, thousands of miles away? Find out the temp of the oceans of the world, track the changes, be prepared for SNOW IN MAY? How can anyone get prepared for snow in May? Warm, but not too warm...keep it cool!

April 2002
Tuesday April 30, 2002 230 Days After

Goodbye April
Tulips, it's time for tulips, but the tulip killers are out there, stalking your tulips, waiting till you turn your back, cutting them off at the stem for their own amusement. THIS MUST STOP. Take me to the tulip pirates!
Friday April 26, 2002 226 Days After


It's FRIDAY, which translates into FUN DAY! How long can you keep a soccer ball in the air? Even if it's a virtual one, I got to 11, but check the high scores! Bounce 1 Bounce 2 Bounce 3...
Thursday April 25, 2002 225 Days After


With this weather this week, there's only one thing to do. MOVIE TIME! But what to view. Whether it's on the big screen or the glass screen, here's a collage of 24 or so movie critics telling you their views. Get the popcorn honey it's MOVIE TIME!
Wednesday April 24, 2002 224 Days After


Tired of your usual weather web page refusing to show you animated weather during the day? Here's what we feel is the best "in motion" web page we've ever seen. It's got to be great...let me see.
Tuesday April 23, 2002 223 Days After


Will there be racing this weekend? Who knows...the weather man seems to be saying NO, but it's time to get into the racing mode. This year we're following Jon Bittner, and you can too. Here's his website. And remember..."it's just for fun!" Go Go, Johnny Go Go Go
Monday April 22, 2002 222 Days After


Time to start tracking your family. Here's free software that's easy to set up/easy to use and tracks ALL the important things about you and all your relatives! It can also export to a different program called GedPage which let's you export to web pages so everyone can see your work and relations. Start here with Personal Ancestoral Software Continue here with software to build your data into web pages.
Friday April 19, 2002 219 Days After


Are you as fed up with SPAM EMAIL, JUNK MAIL AND TELEMARKETERS as I am? Here's an empowerment website showing you how to at least "minimize" your punishment that these despicable people inflict on us all! Take me to the JUNKBusters
Thursday April 18, 2002 218 Days After


It isn't fair that we go all the way south, without showing you some of spring, rebirth, and warmth. Here's a web cam almost 1/2 the distance around the globe from the south pole. It's Juneau Harbor in Alaska. Rather than an automated camera, they take a few pictures of interesting things each day and post them on this site. Where's the snow??
Wednesday April 17, 2002 217 Days After


Complaining that it's not spring yet? Just think, winter is setting in at the south pole. Here's the web cam to remind you.. check out why you're hearing that sound, and the picture gallery. BRRRRRRRRR
Tuesday April 16, 2002 216 Days After


It's a big day for the region today. Ground breaking for the new Hilton Garden Inn next to the Rural Technology Center on the far west of UND. What is the RTC? Here's where to find out. innovators.net AND... it won't be long before you can start making reservations for your guests and friends at the new hotel. Here's their central website. Hilton Garden Inn
Monday April 15, 2002 215 Days After


Wanting to look good for summer seems to be a regular spring thing for most of us...but which regime to follow? We've all heard about the "popular" ones, but are they really healthy? Do they lead to permanent weight loss? WebMD has comments on many of them. Low fat, low carb, LOW SOMETHING
Friday April 12, 2002 212 Days After


Movies, movies, movies...so many flaws, quirks, and little items that will make you the center of the cocktail circuit. Groovy beginnings, ending, moments, Classic quotes, it's all here! He didn't say THAT!
Thursday April 11, 2002 211 Days After


Cabin fever got you down? Feeling just a little "locked up?" Well don't follow the footsteps of these guys...they're just plain DUMB CROOKS! Stick em up!
Wednesday April 10, 2002 210 Days After


Urgent you go to this website. Insanity test waiting for your passage. I need to pass this and send it to my friends
Tuesday April 9, 2002 209 Days After


Well, back from a 2500 mile trip and time for some fun! Have you been on the big auction site in the past? Bet you missed these bizarre little gems! Who's going to give me a 25 dollar bill!?
Friday & Monday ROAD TRIP. Nashville was great! Saw many friends, stayed at the Bed & Breakfast oldmarshallhouse.com Ate lots of wedding cake, stopped for donuts at Krispy Kreme (Awesome) Gas cost between 1.34 and 1.77. Yuck
Thursday April 4, 2002 204 Days After


Herbs, veggies, spices, here's a fun page that lists all those weird ones that you see now and then. Kolrabi is mainstream.
Wednesday April 3, 2002 203 Days After


It may still feel like winter out there, but spring has to be just around one of the corners! With spring must come marbles...so if you don't have your bag ready for the season, here's the mother of all marble sites where you can "reload" you stash. Even Bill Murray marbles! Cats Eyes, Puries, Clearies OH NO
Tuesday April 2, 2002 202 Days After


Winter weather keeping you inside? Here's a website that tracks EVERY (and there's thousands of them) satellite that's out there rotating around the earth. It's a 6 meg download so plan for the time, but if you choose to run it, it's the coolest. Find out what's overhead right now! UP UP AND AWAY!
Monday April 1, 2002 201 Days After

YES It's APRIL FOOLS DAY!
Well, what can we do today... no jokes here, just some history and info on why we act like this today. No joke...take me to the site.
---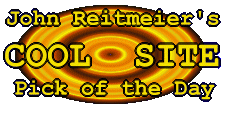 ---
? 1999 copyright John Reitmeier / theminute.com - all rights reserved.